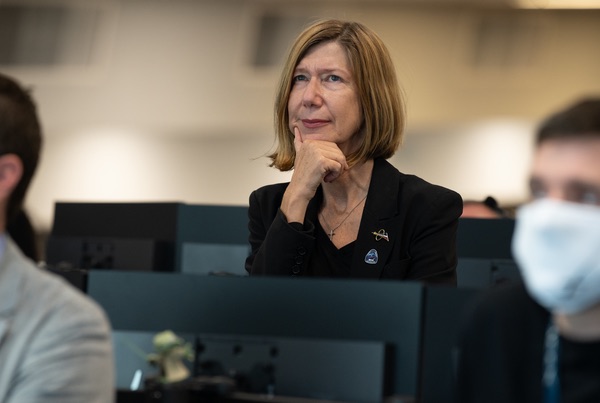 Kathy Lueders, NASA commercial crew program manager, monitors the approach of the Crew Dragon spacecraft to the International Space Station May 31. NASA named Lueders as associate administrator for human exploration and operations June 12. (credit: NASA/Joel Kowsky)
Stability and certainty for NASA's exploration efforts
by Jeff Foust

Monday, June 22, 2020
For most of the last decade, NASA's human spaceflight program had stable leadership. Since the establishment of the Human Exploration and Operations Mission Directorate (HEOMD) in 2011, when NASA merged its space operations and exploration directorates, that part of NASA had been led by Bill Gerstenmaier, a veteran of NASA's shuttle and space station programs. Over the next eight years, Gerstenmaier gained almost universal admiration and respect in the industry for his leadership and expertise during an often-tumultuous time for human spaceflight at the agency.
Finding a leader who supported "going fast" was not a fast process.
That all changed, though, less than a year ago. Last July, NASA administrator Jim Bridenstine announced that Gerstenmaier was being transferred to a "special adviser" position at the agency. Bridenstine said in an interview shortly after the reassignment that it reflected changing times at the agency. "We're moving to a new era in human spaceflight where the administration is interested in going fast, we're interested in doing things in a different way, and I believed it was important to have new leadership at the top of the Human Exploration and Operations Mission Directorate," he said (see "An exploration shakeup", The Space Review, July 15, 2020).
Finding a leader who supported "going fast" was not a fast process. Three months after reassigning Gerstenmaier, NASA announced it was hiring Doug Loverro as the new head of HEOMD. Loverro was new to civil spaceflight but not to space itself, with a long career in national security space. "How can anybody who cares anything about space not go ahead and jump at the opportunity to put women and men back on the Moon?" he said in an interview shortly after starting work at NASA last December, calling the job "the dream of a lifetime." (See "The challenges facing Artemis in 2020", The Space Review, January 6, 2020.)
But Loverro, who took the goal of landing humans on the Moon by the end of 2024 so seriously he wore a lapel pin updated each day to reflect the number of days remaining until that deadline, would not last long. On May 19, NASA announced that Loverro had resigned, effective the day before. Neither NASA nor Loverro would publicly comment on the reasons for his departure, which was as sudden and surprising to the space industry as Gerstenmaier's reassignment ten months earlier.
"There's a personnel issue there that we can't talk about," Bridenstine said of Loverro's resignation during a call with reporters last Thursday.
The details that have emerged in the last month from unofficial channels, though, have pointed to issues with the Human Landing System (HLS) procurement to develop lunar landers for the Artemis program. The latest details, according to a Washington Post story published Saturday, indicate that Loverro contacted a Boeing executive, Jim Chilton, about that company's HLS proposal. The company then asked NASA to amend its proposal, making changes so specific as to raise questions within the agency, ultimately leading to Loverro's departure.
Although that insight did not appear to affect the procurement—Boeing did not win an HLS contract—it has prompted an investigation by NASA's inspector general, one that could take months to complete. That could ultimately have consequences for both Loverro and for Boeing, depending on the outcome of that investigation.
After Loverro's resignation, NASA moved much more quickly to name a successor: closer to three weeks rather than three months. On June 12, NASA announced that Kathy Lueders, manager of the commercial crew program at the agency, would be the new associate administrator for human exploration and operations, effective immediately.
Lueders "gives us the extraordinary experience and passion we need to continue to move forward with Artemis," Bridenstine said.
Lueders was a known quantity both within and outside the agency. She started at NASA in 1992 at the White Sands Test Facility in New Mexico to work on the shuttle program, then took a series of positions on the station program, including overseeing commercial cargo, before become manager of the commercial crew program on an acting basis in 2013 (the prior manager, Ed Mango, stepped down because of an unrelated legal issue), taking the job on a permanent basis in 2014.
"Kathy gives us the extraordinary experience and passion we need to continue to move forward with Artemis and our goal of landing the first woman and the next man on the Moon by 2024," Bridenstine said in a statement that day about selecting Lueders.
Lueders' selection won praise outside the agency. "Her immense technical and management background with NASA, coupled with her recent leadership of the commercial crew program, will be invaluable in landing the first woman and next man on the Moon," said Mary Lynne Dittmar, president and CEO of the Coalition for Deep Space Exploration, an industry group that represents many of the companies involved in NASA's exploration programs.
"Kathy Lueders has been a wonderful leader of NASA's commercial crew program and a great partner with industry. Her experience and leadership make for the right person for the job," tweeted the Commercial Spaceflight Federation, another industry group, calling her selection a "great choice."
Unlike Loverro, who was new to the agency and had to spend time getting up to speed on all of HEOMD's programs, Lueders is very familiar with commercial crew and, by extension, the ISS program. In that call with reported last Thursday, she dived into details about the ongoing Demo-2 mission at the ISS, including plans for the Crew Dragon spacecraft, with astronauts Bob Behnken and Doug Hurley on board, to return to Earth most likely in early August.
She is, though, still getting up to speed about Artemis and its various elements. "She's been focused on launching commercial crew and now she's spent four days thinking, 'Okay, what about the Moon?'" Bridenstine said. "We're going to give her time to do what she needs to do, to learn what she needs to learn, and then we're going to give her the authority to make the decisions necessary to make it a successful program."
That meant no news on some key near-term issues, like getting the Space Launch System core stage through its "Green Run" test at the Stennis Space Center, work put on hold for two months by the coronavirus pandemic (and then also delayed by about week because of a passing tropical storm.) There's also no update on a launch date for the first SLS mission, Artemis-1, now expected to slip into late 2021. Bridenstine also said NASA was putting on hold a proposed reorganization of HEOMD itself, a process started by Loverro, to give time for Lueders to weigh in.
Achieving that 2024 lunar landing goal will require a lot of hard decisions. "This is a challenging goal, but through this challenging goal we are working aggressively to accomplish the mission that's been given to us," Lueders said, who later in the call embraced that goal. "I absolutely believe in having aggressive goals. I think, especially at this stage, it gets the team focused on the importance of the mission."
But asked later to say, yes or no, if NASA will achieve that goal, she hesitated. "I don't have a crystal ball," she said. "We're going to try. Sometimes it's the trying that gets us closer to the goals than the not-trying. You've got to start. It takes one step at a time."
The next day, NASA issued a brief statement from Lueders clarifying her views on the 2024 goal. "I'm committed to our bold goal of sending the first woman and next man to the Moon by 2024 under the Artemis program," she said. "Aggressive goals are essential to mission success. We are moving as quickly and safely as possible to return to the Moon in four years and establish sustainable exploration later this decade to prepare us for future exploration of Mars."
"This is a challenging goal, but through this challenging goal we are working aggressively to accomplish the mission that's been given to us," Lueders said.
However, it's not the first time that someone in Lueders' current position has offered less than 100 percent certainty about that goal. At a House Science Committee hearing last September, Ken Bowersox, who was serving as acting associate administrator at the time, was asked how confident he was in achieving the 2024 human lunar landing goal.
"How confident? I wouldn't bet my oldest child's upcoming birthday present or anything like that," he responded. "We're working towards it as hard as we can."
Bowersox, again thrust into the acting associate administrator role after Loverro's resignation, also raised questions about achieving that goal earlier this month. "Truthfully, I think we're going to need more [money] if we're going to get to 2024," he said at a June 9 meeting of the National Academies' Aeronautics and Space Engineering Board and the Space Studies Board. Discussions with Congress, he suggested, "indicate that it may be difficult to give us everything we've asked for."
If NASA doesn't get everything it asked for—the agency sought a 12% overall increase in fiscal year 2021, with an even larger increase for exploration programs—then he suggested the 2024 landing would be in doubt.
"I'm not going to say that it's impossible to do 2024 if we don't get what we asked for," he told the committees. "We don't want to give up on 2024 if we have any chance of making it, and right now we still think we have a chance with the resources we've got. But at some point, you just run out of room to reduce your program any more. I don't think we're there yet."
There are many challenges that Lueders and NASA face that are beyond their control, from the long-term effects of the pandemic to a potential change in administrations and space policy priorities. Many more challenges, particularly technical and programmatic ones, will be within NASA's control. Lueders may be able to provide the strong—and stable—leadership needed to take on those challenges within the agency's control. Certainty is difficult in inherently uncertain times, which makes stability all the more important.
---
Note: we are temporarily moderating all comments submitted to deal with a surge in spam.