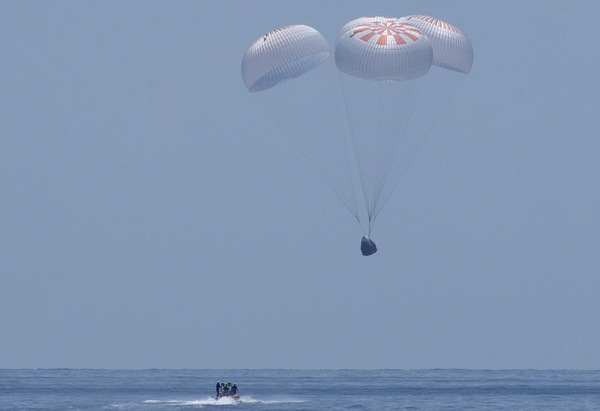 The Crew Dragon spacecraft Endeavour moments before splashdown August 2 that ended the Demo-2 mission. (credit: NASA/Bill Ingalls)
Captured flag
by Jeff Foust

Monday, August 3, 2020
During a ceremony on the final space shuttle mission, STS-135 in July 2011, astronauts on the International Space Station spoke with then-President Barack Obama. During the call, the astronauts showed off a small American flag, 10 by 15 centimeters, that has also flown on the first shuttle mission three decades earlier. That flag, they said, would remain on the station until the next crewed American spacecraft arrived at the station.
"I understand it'll be kind of like a capture-the-flag moment for commercial spaceflight," Obama said. "So good luck to whoever grabs that flag."
Nine years and a handful of days later, that flag is back on Earth. It was part of the roughly 150 kilograms of cargo that hitched a ride back to Earth on the Crew Dragon spacecraft that brought NASA astronauts Bob Behnken and Doug Hurley back to Earth. They had captured the flag, and finally demonstrated that a commercially developed spacecraft could transport astronauts to and from orbit, realizing the long-delayed ambitions of NASA and SpaceX alike.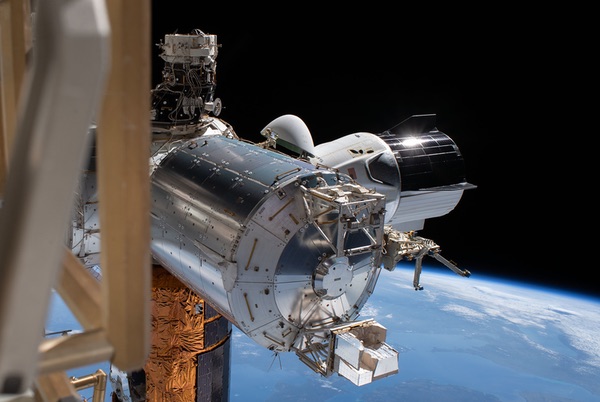 Endeavour docked to the International Space Station during its two-month stay there. (credit: NASA)
Crew Dragon's return
The Demo-2 mission started, with great fanfare, with a launch from the Kennedy Space Center May 30 and a docking with the station the next day (see "A shaky ride to a smooth launch", The Space Review, June 1, 2020). For the next two months, Behnken and Hurley were just two more members of the station's crew, helping with research and maintenance on the short-staffed station.
"The hardest part was getting us launched, but the most important part is bringing us home," said Behnken.
"We effectively tripled our ability of our work done, and with all three of us having been here before, it was in short order that were running at full steam and getting as many science objectives completed as we could," space station commander Chris Cassidy, the only other NASA astronaut on the station, said in a call with reporters last Friday. That included four spacewalks by Behnken and Cassidy to complete the changeout of batteries in the station's power supply, work they completed with ease despite NASA predictions it could take as many as six spacewalks to accomplish.
Demo-2 was originally intended to be a short test flight, staying only a couple weeks at the station to test out spacecraft. NASA and SpaceX agreed to extend it, though, because Cassidy and two Russian cosmonauts would be the only people on the station at the time of the mission. While NASA indicated the mission could last as long as four months, the agency decided to extend it to only two months in order to get Crew Dragon back, allowing NASA and SpaceX to complete reviews of the spacecraft.
Ahead of undocking and reentry, Behnken and Hurley expressed confidence in the Crew Dragon spacecraft, which they had named Endeavour. Ground controllers regularly checked the health of the spacecraft, and astronauts also tested the spacecraft while docked with the station, including seeing how well four people—the crew complement of future missions—could work inside the capsule.
"For the most part we've had pretty good luck with Endeavour as far as on-orbit testing is performed, just like it did for launch and rendezvous," Hurley said at that Friday event. "So, we expect nothing different for the splashdown."
While confident, they acknowledged how critical those upcoming events would be. "The hardest part was getting us launched, but the most important part is bringing us home," said Behnken during a farewell ceremony on the station Saturday morning.
By Saturday evening, Behnken and Hurley were in the spacecraft, loaded with other cargo, including that American flag, for the trip home. At 7:35 pm EDT, Endeavour undocked from the station and started to pull away, flawlessly executing a set of thruster burns to depart the vicinity of the station and set up for a reentry on Sunday. An approaching tropical system, Isaias, ruled out a splashdown off Florida's Atlantic coast, but conditions in the Gulf of Mexico were ideal—calm seas, clear skies, and light winds—so NASA announced the spacecraft would splash down just south of Pensacola.
SpaceX had demonstrated that Crew Dragon could successfully reenter and splash down on the Demo-1 mission in March 2019, and the company had done about 20 splashdowns of the earlier cargo version of the spacecraft. Yet, having people on board added a much greater level of nervousness as the spacecraft performed its deorbit burn and its communications, as expected, were cut off as the plasma generated by the reentry blocked radio signals.
Ahead of schedule, though, Endeavour was in communications with controllers, having survived the brunt of reentry and descending towards the Gulf of Mexico. Its drogue and main parachutes deployed as planned, and the spacecraft splashed down at 2:48 pm EDT Sunday, within sight of the recovery ship and its accompanying fast boats, which arrived at the capsule minutes later.
If anything went wrong with the return, it was after splashdown. While the capsule was brought on board the recovery ship half an hour after splashdown, opening of the main hatch was briefly delayed somewhat because of higher-than-expected traces of nitrogen tetroxide, a spacecraft thruster propellant, around the spacecraft. Purging the system eliminated the problem.
"I think we'll go figure out a way to handle it better on the next flight," said Steve Stich, manager of NASA's commercial crew program, at a post-splashdown briefing. "We've had similar things with other vehicles, so I wouldn't say this was a big deal at all."
The other problem was that the recovery ships were not alone. At least a couple dozen private boats swarmed the landing zone after splashdown. One, waving a Trump campaign flag, passed between the main recovery ship and the capsule as seen on NASA TV, while others appeared to come very close to the spacecraft.
NASA Administrator Jim Bridenstine appeared frustrated by those boats, including their potential to both interfere with recovery operations as well as their potential exposure to toxic chemicals, like nitrogen tetroxide, from the capsule. "That was not what we were anticipating," he said at the post-splashdown briefing. The US Coast Guard cleared the area around the landing site beforehand, but after splashdown "the boats just came in."
"Five hours ago we were in a spaceship, bobbing around, making prank satellite phone calls to whoever we could get a hold of," Hurley said during an arrival ceremony.
"The lesson learned here is that we probably need more Coast Guard assets, maybe some more SpaceX and NASA assets as well," said SpaceX president Gwynne Shotwell. "This is a demonstration mission. This is the time you go learn about these things, and we'll certainly be better prepared next time."
Neither Behnken nor Hurley, though, seemed to mind, urging recovery crews to take their time as they got capsule on the ship and took care of the nitrogen tetroxide. "Five hours ago we were in a spaceship, bobbing around, making prank satellite phone calls to whoever we could get a hold of," Hurley said during an arrival ceremony in Houston late Sunday. "Which was kind of fun, by the way."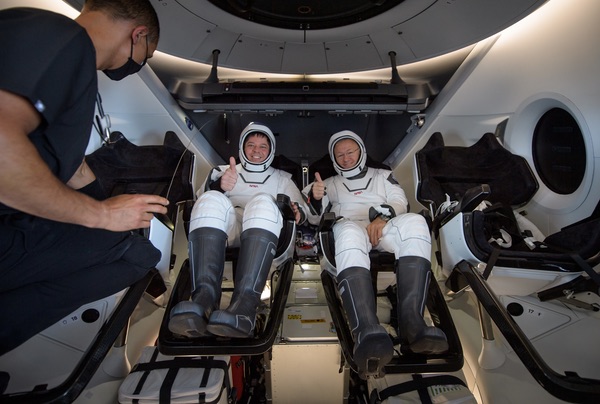 Bob Behnken (left) and Doug Hurley give thumbs-up signs after the hatch to the Crew Dragon was opened. (credit: NASA/Bill Ingalls)
Changing the paradigm of human spaceflight, at long last
With the safe return of Behnken and Hurley, development and testing of Crew Dragon is essentially complete, nearly six years after the company received a $2.6 billion contract from the agency.
Engineers had already started to review data from the spacecraft from its launch and in-flight operations, and will now pour over the data from the reentry and splashdown. The spacecraft itself will be transported to a SpaceX facility at Cape Canaveral for further reviews.
"We'll do a few things to get ready for certification in a few different areas," Stich said. That includes the telemetry review as well as checking the parachutes and inspecting the spacecraft. "We'll put all of that data together and head into the certification review, probably towards the end of this month or early next month."
Assuming that Crew Dragon passes that certification review, NASA will give the go-ahead for the first operational mission, Crew-1. The Crew Dragon spacecraft for that mission is nearly complete and will soon be shipped to Florida, said Benji Reed, director of crew mission management at SpaceX, during a briefing last week.
NASA says that mission will launch no earlier than late September, and carry four astronauts to the station: NASA's Mike Hopkins, Victor Glover, and Shannon Walker, and JAXA astronaut Soichi Noguchi. They will spend a regular six-month stay on the ISS.
Those astronauts were closely watching the end of the Demo-2 mission. "As you can imagine, we've got big smiles on our face from what we saw from the DM-2 mission," Hopkins said at the post-splashdown briefing. "It did not seem like this was the first NASA-SpaceX mission with astronauts on board. It seemed to go extremely smooth."
"We're trying to really change the paradigm of human spaceflight, and in order to do that you need to make sure that these capsules are rapidly and readily reusable," Shotwell said.
The Demo-2 spacecraft, once it completes those post-mission reviews, will be refurbished for the Crew-2 mission, scheduled to launch next spring. (That mission's crew, announced last week, includes NASA astronaut Megan McArthur, who is married to Behnken.) That represents a change from SpaceX's prior plans, where it said it would use a new spacecraft for each NASA mission. A contract modification in May, part of a deal to extend the Demo-2 mission, granted SpaceX permission to reuse both the spacecraft and the Falcon 9 first stages on commercial crew missions, starting with Crew-2.
"Originally, on the contract we decided to go for new vehicle use, but as we've continued down the last number of years of proving the awesomeness of reuse and reflight" the company changed course, Reed said. The spacecraft is designed for at least five flights. "From the get-go we were expecting to reuse this vehicle. We had always hoped that we would be able to reuse it on NASA astronaut missions. We had also planned, though, from the beginning we would be able to reuse it for commercial passenger missions."
"We're trying to really change the paradigm of human spaceflight, and in order to do that you need to make sure that these capsules are rapidly and readily reusable," Shotwell said.
That means the company will need to build fewer capsules in order to meet its NASA contract needs and commercial customers, such as Axiom Space and Space Adventures. She declined, though, speculate on how many capsules the company may produce. "We want to see how this vehicle looks after we get the opportunity to inspect it and such," she said. "We do anticipate building out a fleet."
The success of the Demo-2 mission is a vindication for the commercial crew program, which faced criticism in its early days, a decade ago, when many were skeptical that companies could build and operate commercial spacecraft suitable for transporting NASA astronauts. That led to funding shortfalls in those early years. While NASA later got full funding for the program, developmental delays—common for almost any aerospace program—pushed back the first flights of those vehicles by years. Setbacks, like the loss of a Crew Dragon spacecraft during testing of its SuperDraco abort thrusters last April, or the problems during Boeing's uncrewed test flight its CST-100 Starliner last December, didn't help.
Bridenstine embraced the success of Demo-2 and commercial crew as a model for the agency to follow in the future. "The commercial crew program has really just proven the business model for how we go forward, and we do more than we've even been able to do before," Bridenstine said. One example he cited was the Human Landing System program for lunar lander development, which is also a public private partnership and, like the early days of commercial crew, facing funding problems.
At the arrival ceremony in Houston Sunday evening, Bridenstine acknowledged that the relationship with SpaceX had been rocky at times. He recalled a tweet from last September where, as SpaceX was planning to unveil a Starship prototype, he expressed frustration with commercial crew delays. "Commercial Crew is years behind schedule. NASA expects to see the same level of enthusiasm focused on the investments of the American taxpayer. It's time to deliver," he wrote then (see "Starships are meant to fly", The Space Review, September 30, 2019).
"I want to tell you, Elon, you responded absolutely magnificently," Bridenstine said Sunday night. "You have delivered beyond anything any of us would have expected." There's nothing like success to resolve any differences.
"I really came here because I wanted to see Bob and Doug," Musk said. "I'm not very religious, but I prayed for this one."
It took more than a tweet, though, to resolve those differences. "Maybe we weren't there five of six years ago," Behnken said of the NASA-SpaceX relationship at the arrival ceremony, "but by the time we launched and certainly by the time we returned I think there was a very tightknit relationship between the SpaceX team and our NASA team, and we worked together to accomplish what we accomplished."
SpaceX CEO Elon Musk, also at that ceremony, praised the NASA and SpaceX teams as well. "This day heralds a new day of space exploration," he said, looking back to the company's founding in 2002. "It's been 18 years to finally fly people to orbit and back."
Mostly, though, he was relieved. "I really came here because I wanted to see Bob and Doug," he said. "I'm not very religious, but I prayed for this one."
His prayers—and those of NASA, perhaps—were answered with the success of the Demo-2 mission. And that flag left on the station nine years ago is back on Earth. At the farewell ceremony Saturday morning, Cassidy handed the flag over to Hurley, who was part of the STS-135 crew that delivered it to the station.
"This flag has spent some time up here, on the order of nine years since we dropped it off on STS-135," said Hurley. "Very proud to return this flag home."
---
Note: we are temporarily moderating all comments submitted to deal with a surge in spam.