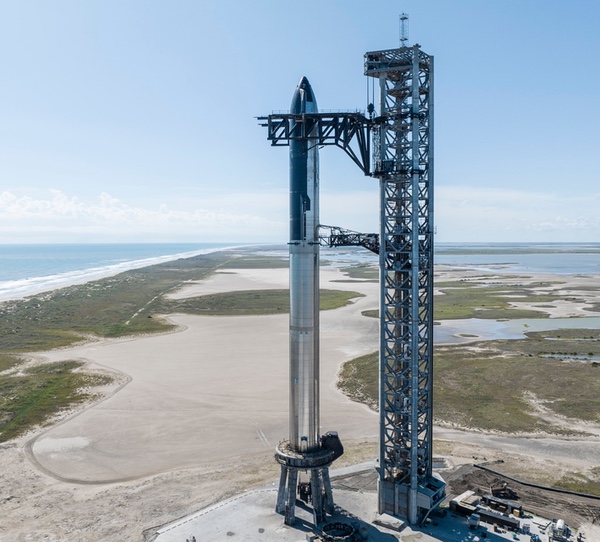 A full Starship vehicle—Ship 24 and Booster 7—on the pad at Starbase in Boca Chica, Texas, last week, for testing. At some point in the future, another Starship vehicle may launch Dennis and Akiko Tito, among others, on a flight around the Moon. (credit: SpaceX)
Who wants to fly around the Moon?
by Jeff Foust

Monday, October 17, 2022
More than 20 years ago, Dennis Tito was a pioneer in commercial human spaceflight. Tito flew on a Soyuz spacecraft to the International Space Station in April 2001, becoming the first non-government astronaut to visit the station and the first self-funded individual to go to space (previous non-government astronauts had been sponsored by governments or corporations.) It opened the door for a new era of space tourism, although one that did not open as wide as first thought given the slow pace of visitors to the station and a long gap than only recently ended.
"I've been wanting to go to the Moon since my first trip to space to the space station in 2001," Tito said.
This time around, he is willing to be second in line. SpaceX announced last week that Tito and his wife, Akiko, had purchased tickets for a Starship flight around the Moon. The two would be joined by up to ten other people on the week-long flight, swinging around the Moon but not going into orbit or landing before returning to Earth.
"I've been wanting to go to the Moon since my first trip to space to the space station in 2001," Dennis Tito said in a call with reporters a few hours after a carefully choreographed series of initial news reports about the trip. "So now, the adventure of traveling to the Moon and seeing it at close range, with my own eyes, is almost unimaginable."
Tito hadn't previously discussed that yearning for a lunar flight, at least not publicly. Despite being a pioneer in orbital commercial human spaceflight, he largely stayed behind the scenes, doing little in the way of advocacy or funding of commercial spaceflight initiatives. His biggest venture was Inspiration Mars, a short-lived proposal for a private human Mars flyby mission (see "A Martian adventure for inspiration, not commercialization", The Space Review, March 4, 2013). His role in that, he said at the time, was as a sponsor and initial funder, and indicated no interest in going into space, on that mission or any other.
What changed, he said in the call, was the growth of SpaceX's capabilities. "I've been following SpaceX on almost a daily basis, watching YouTube, for the last five years," he said. "I could see that there was an opportunity with Maezawa for the first circumlunar mission and I started thinking about it."
That was a reference to Yusaku Maezawa, a Japanese billionaire who, in 2018, announced he was buying a circumlunar flight on what was then known as BFR (officially Big Falcon Rocket, unofficially… something else) from SpaceX. Maezawa said he planned to fly a group of artists around the Moon.
The first meetings with SpaceX took place a little more than a year ago, when the company broached the possibility of flying Tito back to the ISS. "I certainly don't want to go back to the space station. I don't even want to orbit the Earth," he recalled. "Then I thought about it and said I would be interested in going to the Moon."
His wife—an engineer, pilot, and real estate investor—was with him at the meeting. "I looked over to Akiko and we had kind of a little eye contact and she goes, 'Yeah, me too,'" he said. "That's how it all began."
Akiko Tito, also on the call, said she had been interested in space from a young age. "This mission is the first of many that will help humanity become multiplanetary and I'm so honored to be a part of it," she said.
"We have a lot of interest in this mission. We're talking to many different customers," Matthews said, describing the Titos as "anchor customers" for the flight.
But while the Titos were happy to talk about the backstory of the mission and their excitement to be on it, they, and SpaceX, offered few details about the mission itself. The flight profile, Dennis Tito said, would involve launching a Starship into low Earth orbit, where it would meet up with a fuel depot version of Starship whose tanks had been filled by several other Starships—an approach similar to how SpaceX had described the lunar lander version of Starship it is developing for NASA's Human Landing System (HLS) program. Once Starship's tanks are topped off, it will fire its engines on a circumlunar trajectory, swinging around the Moon about 200 kilometers above the lunar surface then heading back. The overall trip would take about a week, including three days each way to and from the Moon.
SpaceX declined to give a schedule for the flight on the call, stating only it would come after Maezawa's flight as well as the first crewed Starship launch, a test flight in Earth orbit that is part of the Polaris Program funded by billionaire Jared Isaacman. Those flights would be "pretty independent" from SpaceX's work on HLS, said Aarti Matthews, director of Starship crew and cargo programs at SpaceX.
Matthews also said the company had not decided if the mission would launch from Starbase, SpaceX's test site at Boca Chica, Texas, or from the Kennedy Space Center in Florida, where the company is building up a second Starship launch pad at Launch Complex 39A. Similarly, she could not say where the Starship would land at the end of the mission.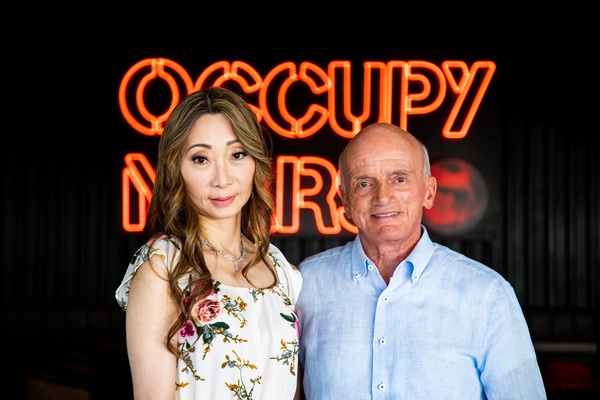 The sign behind them may say "Occupy Mars," but Akiko and Dennis Tito have their sights set on a trip around the Moon. (credit: SpaceX)
Dennis Tito declined to discuss how much he paid for the seats on the flight. "I don't want to say anything about the cost. That's not available publicly," he said when asked for the price, either in absolutely values or relative to his 2001 trip to the ISS. Tito paid no more than $20 million for the ISS trip, and has an estimated net worth today of around $1 billion.
It will be up to SpaceX to fill the other seats on what the company says will be a 12-person flight. "We have a lot of interest in this mission. We're talking to many different customers," Matthews said, describing the Titos as "anchor customers" for the flight. "Without the vision you both have, this entire mission wouldn't really be possible." However, she didn't say if SpaceX would fly the mission if it didn't sell all the seats.
The other ten people would likely be paying customers. Asked if the Titos and other customers would be accompanied by a professional astronaut—a requirement NASA now has for private astronaut missions to the ISS—Matthews mentioned Dennis Tito's previous spaceflight and Akiko Tito's pilot experience. "We really couldn't pick two better crew members," she said.
"I would feel comfortable if there were no other people on board this mission," Dennis Tito said. "I think I could easily handle it." SpaceX didn't provide much in the way of details on the training for the mission.
The Titos may have plenty of time to prepare for the flight no matter how quickly it sells the other seats. As currently scheduled, it will follow Maezawa's flight, called "dearMoon," but exactly when it flies is unclear. Last year, he kicked off a competition to select the eight people who would accompany him on the flight, then scheduled for 2023.
"There's going to be a lot of flights, a lot of testing," Tito said of Starship. "I think actually the vehicle will be better tested when we fly than even the Soyuz was when I flew 21 years ago."
However, there have been no updates on the process of selecting that crew since September of 2021—more than a year ago—when dearMoon posted on its website that those people going on to the next (and possibly final) round of the selection process had completed medical checkups. "Those who have not gone that far, we thank you for applying & hope for your continuing support," the website states. The dearMoon project did not respond to a request for comment last week on the status of the crew selection effort or the schedule for the mission.
Even if Maezawa had a crew ready, though, a flight around the Moon in 2023 seems highly unlikely, in part because Starship has yet to even attempt its first orbital launch. Progress on vehicle development and testing has been going slowly, at least relative to the steady stream of low-altitude suborbital Starship tests in late 2020 and early 2021 that culminated with a successful launch and landing of the vehicle.
Just before SpaceX announced the deal with the Titos, the company had stacked a Starship vehicle, including the Super Heavy booster, on the pad at Boca Chica for testing, although a launch attempt is not imminent. "We are proceeding very carefully," Musk tweeted October 16. "If there is a RUD on the pad, Starship progress will be set back by ~6 months." A RUD is "rapid unscheduled disassembly," aka an explosion.
It's possible that the first Starship orbital launch, a test flight, won't be completely successful, given the track record from past Starship tests. That would further push out crewed flights, be they for space tourists or NASA's HSF programs.
Dennis Tito, whose first flight to space was on a Soyuz spacecraft that had flown dozens of crewed missions over more than three decades by that point, was not concerned about going on a vehicle yet to reach orbit. He said that by the time he takes his trip to the Moon, he expects Starship expects to have performed "hundreds" of launches, a figure that presumably includes uncrewed flights like launches of Starlink satellites.
"This is not going to happen in the near term," he said of his mission. "There's going to be a lot of flights, a lot of testing. I think actually the vehicle will be better tested when we fly than even the Soyuz was when I flew 21 years ago."
SpaceX's Matthews offered similar confidence that Starship will be ready to take people around the Moon when the time comes—whenever that time is. "We are confident that we will have this vehicle fully tested out and ready to go by the time we fly this mission," she said.
That should give SpaceX plenty of time to determine if there are enough people, at whatever price they're charging, to fill up a Starship for a trip around the Moon. Given Starship's prospects for much lower launch costs, it's conceivable a flight around the Moon might cost, on a per-seat basis, somewhere in the same ballpark as a flight to the ISS, which is around $50 million today. For some space tourists, going around the Moon might be worth a modest premium over yet another trip to the ISS.
It remains uncertain if this is really a sustainable business or a one-off (or two-off, if Maezawa's flight is included) flight around the Moon. If the former, Dennis Tito might again be a commercial human spaceflight pioneer.
---
Note: we are using a new commenting system, which may require you to create a new account.