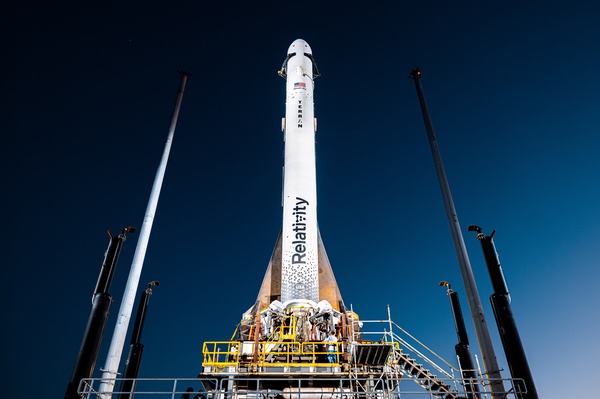 Relativity Space has scheduled a March 8 launch for its first Terran 1 rocket. (credit: Relativity Space/Trevor Mahlmann)
New rockets spring to life
by Jeff Foust

Monday, February 27, 2023
Spring is approaching in the Northern Hemisphere, bringing with it the promise of new life and renewal. That traditionally involves plants and animals (and, perhaps, baseball) but this year it extends to launch vehicles.
Within a couple of months, the industry could see the first flights of four launch vehicles, ranging in size from small to very large. All four are behind schedule, in some cases by several years. But each is critical the plans of its company and/or country to stake a claim in a market with increasing demand but also increasing competition.
H3's delayed debut
The first of those is—or, at least, was planned to be—Japan's H3, the successor to the H-2A. The H3 was developed by Mitsubishi Heavy Industries (MHI) with support from the Japanese space agency JAXA with the intent to make Japan a player in the commercial launch market by offering launches for far less than the H-2A, which primarily served JAXA and Japanese national security missions.
The countdown ticked down to the final seconds and the L-9 engine ignited… only to shut down seconds later, before the ignition of its solid-fuel strap-on boosters.
The first H3 launch slipped from 2020 because of various delays, primarily involving the L-9 engine that powers its first stage. Finally, though, the rocket was ready to launch from the Tanegashima Space Center on the morning of February 17 (evening of February 16 in North America.)
The countdown ticked down to the final seconds and the L-9 engine ignited… only to shut down seconds later, before the ignition of its solid-fuel strap-on boosters. JAXA later stated that ignition signals to the boosters were not sent and the L-9 engine shut down, apparently because of an electronics glitch.
As of late February, there had been no official updates on the status of the inaugural launch, carrying the ALOS-3 Earth science satellite, other than a goal to carry out the launch no later than March 10. When it does fly, there is a backlog of primarily Japanese government missions awaiting the H3, including reconnaissance satellites and cargo missions to the International Space Station. There has been, though, little commercial interest in the H3 so far despite its lower cost, which remains high compared to competitors like SpaceX's Falcon 9.
A 3D-printed rocket
In Florida, Relativity Space is preparing for the first launch of its Terran 1 rocket from Cape Canaveral's Launch Complex 16. The small launch vehicle, designed to place up to 1,250 kilograms into low Earth orbit, stands out in a crowded field for two key technologies. The rocket is primarily manufactured using 3D-printing technologies: Relativity has developed: about 85% of the rocket's mass was manufactured that way. It also uses methane fuel along with liquid oxygen; if it reaches orbit on its inaugural launch it will be the first "methalox" rocket worldwide to do so.
But there are no guarantees that Terran 1 will reach orbit on its first launch, given the track record of such debuts: ABL Space Systems suffered a failure of its first RS1 rocket, similar in performance to Terran 1, last month (see "Too many or two few? The launch industry's conundrum", The Space Review, February 13, 2023). Relativity has embraced that: the inaugural launch carries no customer payloads and it calls the mission "Good Luck, Have Fun."
The company announced last week it set a date for Good Luck, Have Fun: March 8, in a three-hour window that opens at 1 pm EST. That launch will be the culmination of a campaign that has included tests of the company's Aeon 1 engines and the two stages of the rocket.
"It's been a truly wild ride to get to this point, and certainly way harder than I ever imagined going into it – but all the feels from me and our team as we embark on this historic launch," Ellis said.
It will not, though, include a static-fire test of the first stage of the full vehicle on the pad as previously planned. A company spokesperson said the company had concluded it has reduced enough risk from those earlier tests that the additional benefits of a full vehicle static fire did not outweigh the additional wear and tear on the vehicle ahead of a first launch attempt. The spokesperson added that meant an additional chance of an abort on their first launch attempt, but if the vehicle was ready, it was time to launch it and see what happens rather than simply do a static fire.
The company is eager, perhaps to finally launch Terran 1 so it can move on to bigger things. The company announced in 2021 plans for a much larger rocket, Terran R, that would be fully reusable. It will use some of the same 3D-printing and methalox engine technologies as the smaller Terran 1, but in a vehicle with perhaps more potential commercial and government business.
Tim Ellis, the CEO and co-founder of Relativity Space, said he was ready for the launch. "It's been a truly wild ride to get to this point, and certainly way harder than I ever imagined going into it – but all the feels from me and our team as we embark on this historic launch," he tweeted.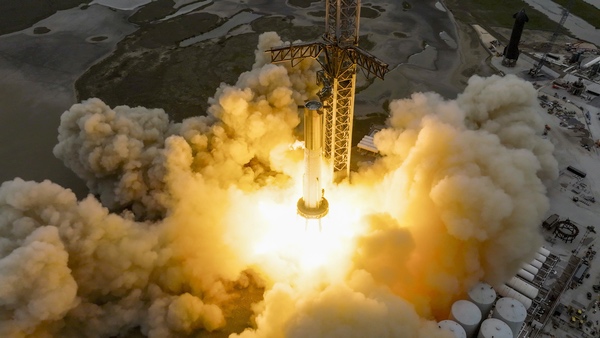 After a static-fire test earlier in the month, SpaceX is moving ahead with a first Starship launch as soon as March. (credit: SpaceX)
Starship: "light 'em up and go"
Attention will soon turn, though, to a much larger rocket: SpaceX's Starship. The company performed a static fire of nearly all the 33 engines in the vehicle's Super Heavy booster February 9 at its Starbase facility in Boca Chica, Texas. (One engine was shut down before the test and a second shut down early, but SpaceX CEO Elon Musk declared it a success.)
The day before the test, SpaceX President Gwynne Shotwell said that static fire would be the final milestone before launch. "It's really the final ground test that we can do before we light 'em up and go," she said at the FAA Commercial Space Transportation Conference in Washington. "That first flight test is going to be really exciting. It's going to happen in the next month or so."
In the days after the test, there was speculation SpaceX might want to do another static fire since only 31 of 33 engines worked as planned. But at the Space Mobility conference last week in Orlando, another company official said SpaceX was moving ahead with an orbital launch attempt.
"We had a successful hot fire, and that was really the last box to check," said Gary Henry, SpaceX senior advisor for national security space solutions. "The vehicle is in good shape. The pad is in good shape."
"Pretty much all of the prerequisites to supporting an orbital demonstration attempt here in the next month or so look good," he added. SpaceX still needs an FAA launch license, but he predicted the company would get one "in the very near future." That would set the company up for a launch "probably" in March, he estimated.
"We had a successful hot fire, and that was really the last box to check," said Henry. "The vehicle is in good shape. The pad is in good shape."
Henry said that Starship launches will initially be used primarily for launches of Starlink V2 satellites, which are much larger than the first-generation satellites launched dozens at a time on Falcon 9 rockets. "We have a few that are waiting very patiently to be launched on Starship," he said of those satellites.
Those launches, and tests of Starship needed to support NASA's Human Landing System program, will accelerate Starship's transition into routine operations. "We very, very quickly converge on a system that we can operationalize," he said.
"We are on the cusp of seeing an opportunity of mass to orbit go from $2,000 a kilogram to $200 a kilogram," he predicted, adding that, in the long-term, launch costs might come down to the point where the cost of propellants is the major factor in overall launch costs. "If Elon gets his way," he said, "you're at $20 per kilogram."
Among those watching Starship's development is Jared Isaacman, the billionaire backer of the Polaris Program of private astronaut missions. The third and final Polaris mission will be the first crewed flight of Starship.
Speaking at the SpaceCom conference in Orlando two days after Henry, Isaacman said he was impressed with Starship, saying if it achieves SpaceX's goals to be fully and rapidly reusable it could be a "gamechanger" for space. At one point he suggested it could be to space what the Boeing 737 jetliner was to aviation; later, he likened it to the Douglas DC-3.
He said, though, he didn't know when SpaceX would be ready to fly his Polaris mission on Starship. "They have a constellation to build out with the next generation of Starlinks," along with other satellite customers, he said. Shotwell said earlier in the month she expected at least 100 Starship launches before it carried people for the first time.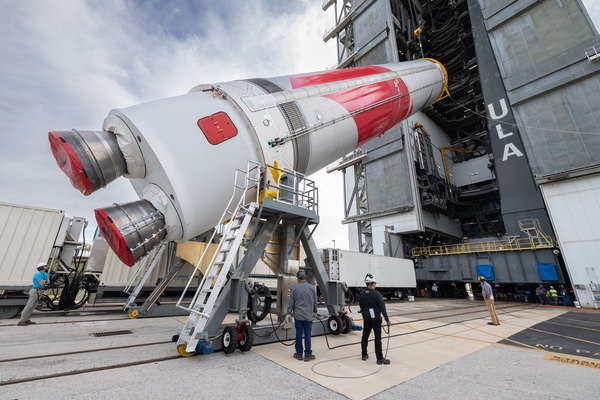 ULA is preparing the first Vulcan Centaur rocket for a launch now scheduled for no earlier than May 4. (credit: ULA)
A Vulcan on Star Wars Day
United Launch Alliance's response to the changing launch market and external forces like the loss of access to the Russian RD-180 rocket engine has been the Vulcan rocket, powered by Blue Origin's BE-4 engine. The first launch of Vulcan, though, has slipped by several years, with engine development a key factor.
Last Thursday, ULA CEO Tory Bruno told reporters that the company now had a date for the first Vulcan Centaur launch: May 4. That schedule, he said, had only recently firmed up, and was based on several factors.
One was testing of the Vulcan at its Cape Canaveral launch site. The vehicle, stacked inside a vertical assembly facility, would soon roll out to the pad for tanking tests and a wet dress rehearsal, where both stages would be fully fueled and go through a practice countdown. That would be followed by a flight readiness firing, where the vehicle is fueled again but this time the BE-4 engines are fired at 70% of their rated thrust for 3.5 seconds.
Bruno said the "pacing item" for the launch was not that series of tests but separate qualification of the BE-4 engines. "It's taking a little bit longer than anticipated," he said.
"I have a backup plan for everything, including my backup plans," Bruno said.
Engineers ran into an issue with one of two engines going through those final qualification tests where the engine's main oxygen pump had a performance about 5% higher than what had been seen on other BE-4 engines. Higher performance might not seem like a bad thing, but he said it could be a sign of trouble elsewhere with the engine.
"When the performance of your hardware has even a small shift that you didn't expect, sometimes that is telling us that there could be something else going on in the system that is potentially of greater concern," he warned.
After dissembling the engine, ULA and Blue Origin determined that its performance was only unit-to-unit variation among engines, something Bruno said he has seen among other rocket engines. Those qualification tests are continuing and should be completed in about six weeks.
That would allow Vulcan to be ready for launch by mid-April, he said. However, the primary payload for the inaugural Vulcan launch, Astrobotic's Peregrine lunar lander, has windows only a few days long each month. The window in April, Bruno said, closed before mid-April, so ULA would have to wait until the next one, which opened May 4 and would run for about four days.
That assumes that Peregrine and other payloads for the launch—a pair of demonstration satellites for Amazon's Project Kuiper broadband constellation and the Enterprise Flight payload from space memorial company Celestis—are ready. Bruno said he was optimistic that would be the case, noting that Peregrine recently completed tests at the Marshall Space Flight Center and was back at the company's Pittsburgh headquarters for final preparations before being shipped to the Cape.
"I'm not concerned about them," he said of Astrobotic. "I feel very confident they will be ready to go." The same confidence, he said, extended to Amazon and Celestis.
He suggested, though, that ULA has contingencies if one of more of the payloads do not arrive when Vulcan is ready to fly. "I have a backup plan for everything, including my backup plans," he said. "But at this point, I don't want to go into that because it's not relevant. Everybody looks like they're in really good shape."
That first launch, called Cert-1 by ULA, would be followed later in the year by Cert-2, carrying Sierra Space's Dream Chaser vehicle. Bruno said he expected ULA to take at least a few months before those two missions, depending on the status of Dream Chaser. That schedule would allow Vulcan to be certified by the Space Force for national security missions, with the first potentially before the end of the year.
Having Vulcan certified will allow ULA to start flying a backlog of national security space missions as well as dozens of launches for Amazon's Project Kuiper constellation ordered last year. "We have to ramp up," he said, at least doubling the Vulcan launch rate in 2024. "Before the end of '25, we expect to be really at a tempo which is flying a couple of times a month, every two weeks."
That would be a rate far higher than that ULA demonstrated with its Atlas and Delta vehicles, and the company announced investments last year after winning the large Amazon order to support higher production and launch rates. Along with it, he said ULA will prepare for what it calls "SMART reuse" of the Vulcan, which focuses on recovering and reusing the BE-4 engines rather than the entire stage.
"It will take a couple of years to actually be reusing the engines," he said, including technology demonstrations like the test of an inflatable decelerators flown as a secondary payload on an Atlas 5 launch last fall. "Eventually, we'll have the confidence to recover them, inspect them, and them reuse them. That will happen in this window of a few years."
"You'll see the activity pretty quickly ramp up," he added, referring to tests of SMART reuse. The same could be said of the broader launch industry, as companies finally get their vehicles to the pad to see which ones can technically work, and which of those can, in turn, survive in the market. For every spring, there is also a fall.
---
Note: we are using a new commenting system, which may require you to create a new account.