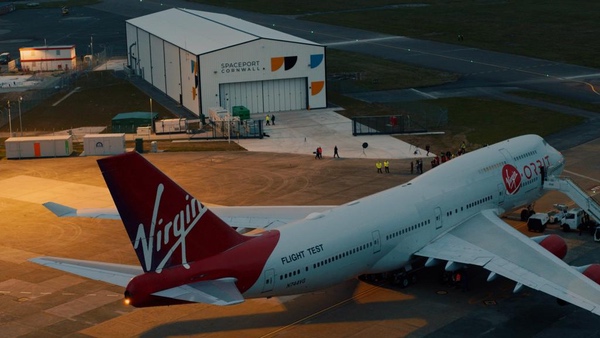 Virgin Orbit's last launch was from Spaceport Cornwall in England in January; its failure exacerbated existing financial problems. (credit: Virgin Orbit)
Go big or go home?
by Jeff Foust

Monday, April 17, 2023
In the end, the air-launch company ran out of runway.
In the early morning hours of April 4, Virgin Orbit announced it was filing for Chapter 11 bankruptcy in federal court in Delaware. The company, which days earlier had laid off 85% of its staff, said the filing would help expedite a sale of the company after months of efforts to raise money failed.
"While we have taken great efforts to address our financial position and secure additional financing, we ultimately must do what is best for the business," Virgin Orbit CEO Dan Hart said in a statement about the filing. "At this stage, we believe that the Chapter 11 process represents the best path forward to identify and finalize an efficient and value-maximizing sale."
"At this stage, we believe that the Chapter 11 process represents the best path forward to identify and finalize an efficient and value-maximizing sale," Hart said.
It was common to link the bankruptcy to the failure of its most recent LauncherOne mission in January (see "Too many or two few? The launch industry's conundrum", The Space Review, February 13, 2023). Certainly, any launch failure is undesirable, and that mission, promoted as the first orbital launch from the United Kingdom, was a serious setback for the company.
However, it had been clear even before the launch failure that the company was facing financial problems. The company said at the time of its Chapter 11 filing that it generated $33.1 million in revenue in 2022, but recorded a net loss of $191.2 million. As of the beginning of 2023, the company had $51.2 million in cash on hand, enough to cover about one quarter of operations.
In documents filed as part of the Chapter 11 proceedings, Hart acknowledged that Virgin Orbit had faced financial problems for some time. It dated back to its decision to go public through a merger with a special-purpose acquisition company (SPAC) announced in August 2021 and which closed at the end of 2021.
Virgin Orbit was counting on up to $382 million in proceeds from the SPAC itself, but ended up getting only $67.8 million as most of the SPAC's shareholders elected to redeem their shares, getting their money back rather that hold stock in the merged company. With some additional investments, Virgin Orbit ended up raising $228 million, still far short of what it expected.
Since the merger closed, "the Company has pursued a broad range of strategic transactions designed to address its continuing liquidity needs," Hart said in an affidavit filed with the court. That included starting discussions with Goldman Sachs on a potential sale of the company or additional investment in early 2022, not long after Virgin Orbit went public.
Those efforts, though, failed to find anyone willing to buy or invest in Virgin Orbit. The LauncherOne failure resulted in "negative publicity and further challenges in identifying a buyer or capital source," Hart said.
The company did have a lifeline from Virgin Investments Limited, the investment arm of Virgin Group, which still owned a majority of the company. Virgin Orbit raised $60 million in four loans in late 2022 and early 2023, agreements that also gave VIL priority on the company's assets, like its Boeing 747 aircraft. But VIL was not willing to make larger investments and Virgin Orbit was running out of cash and time.
In mid-March, the company furloughed most of its staff, citing cash flow problems. A handful were brought back several days later to work on the next LauncherOne rocket, which the company hoped to launch as soon as the second quarter once the investigation into the January failure was complete and approved by the FAA.
There were also signs of a potential deal, from a Texas investor named Matthew Brown. He went on the business TV network CNBC March 23 and said he was in "final discussions" to invest up to $200 million into Virgin Orbit, which he claimed would make him the owner of the company. That deal would be finalized in the next day or so, he asserted.
Virgin Orbit started discussions with Goldman Sachs on a potential sale of the company or additional investment in early 2022, not long after it went public.
The deal, though, was never finalized and fell through a few days later (there were reports that raised questions about Brown's background and his ability to raise that money.) That led to the layoffs and the Chapter 11 filing. Hart said in the court affidavit that Virgin Orbit "received one indication of interest with respect to a sale from a potential buyer, and one indication of interest with respect to a structured financing transaction" but didn't elaborate on the details other than they ended just before the bankruptcy filing.
Virgin Orbit has retained about 100 employees who are continuing work on the next LauncherOne; the company posted a video April 11 of workers installing an engine on the rocket. The company is operating with debtor-in-possession financing from VIL as it seeks court approval for a plan to sell the company or its assets.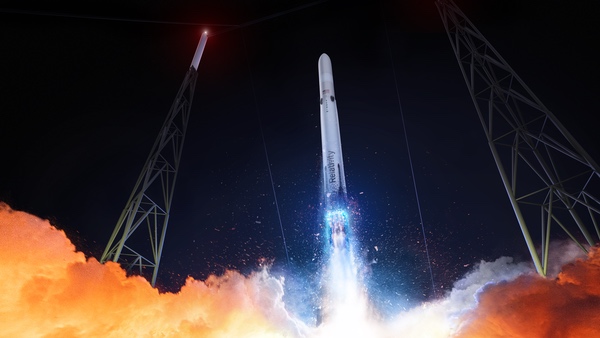 Relativity Space said last week it would retire its Terran 1 rocket after a single launch to focus on the larger Terran R (above). (credit: Relativity Space)
Too small, relatively speaking
Virgin Orbit had gotten past many of the hurdles that stymied other launch vehicle startups. It had, for much of its history, plenty of funding, having spent more than $1 billion. It had successfully demonstrated the LauncherOne system, with four consecutive successful launches after its failed inaugural launch in May 2020 and before the UK launch in January.
The LauncherOne rocket, once released from the 747, falls for a few seconds before igniting its engines. It then has to start pulling up to gain altitude. The Virgin Orbit business failed to execute a similar maneuver, pulling up by increasing its launch rate. While Virgin Orbit once talked about launching as frequently as twice a month once it entered service, it was instead launching only twice a year in 2021 and 2022.
There may be any number of reasons for the company's inability to increase its launch rate: high costs, technical challenges building and operating the launch system, or competition either from other small launch vehicle operators or rideshare launches like SpaceX's Transporter series of missions. But another factor may be at work as well: a fundamental shift in the market towards larger rockets.
"Medium-heavy lift is clearly where the biggest market opportunity is for the remaining decade, with a massive launch shortage in this payload class underway," Ellis said.
That was made clear last week in an announcement by Relativity Space. The company conducted its inaugural launch March 22 of its Terran 1 rocket from Cape Canaveral. Like many first launches of new vehicles, it failed to reach orbit: the rocket's upper-stage engine could not reach full power after ignition. An investigation, still ongoing, concluded valves were slow to open in the engine, and the engine's oxygen pump did not generate pressure during startup, which the company said "is consistent with a vapor bubble being present at the pump inlet."
This explanation would suggest that the problem is not a fundamental issue with the rocket, including its engines that burn methane and liquid oxygen propellants and its extensive use of 3D-printed structures. A quick fix and the rocket could soon be back on the pad, right?
Not exactly. "Building on momentum from Terran 1's development and flight, Relativity is shifting its focus to design, development, and production of its next generation Terran R launch vehicle," the company announced. Terran 1 was one and done.
Relativity had announced the Terran R two years ago as a fully reusable large launch vehicle, able to place more than 20,000 kilograms into low Earth orbit (Terran 1, an expendable vehicle, was designed to place up to 1,250 kilograms into LEO.) It was always the long-term future for the company, but now that future was being moved up.
The Terran R design that the company showed off last week is somewhat different from what it showed off two years ago. The fully reusable design has been replaced by one where only the first stage is recovered, landing on a ship under rocket power like a Falcon 9 booster. There is less use of 3D printing as well, but increased performance: 23,500 kilograms to LEO, or 33,500 kilograms if the stage is expended.
Even before the Terran 1 launch, Tim Ellis, CEO of Relativity, suggested the company might move on from the smaller vehicle in the event of a failure, depending on the feedback from the company's customers. "Medium-heavy lift is clearly where the biggest market opportunity is for the remaining decade, with a massive launch shortage in this payload class underway," he said in a series of tweets. His customers, he suggested, may want the company "to solve the remaining rocket science problems on the vehicle they are actually most interested in, Terran R."
Relativity has raised more than $1 billion, having eschewed SPACs a couple years ago in favor of a very large venture round. The company claims to have contracts for Terran R launches with $1.65 billion from several customers, including OneWeb, which plans to use the vehicle for launching part of its second-generation constellation. "We can't wait to see them push on to the next evolutionary step in bringing the Terran R to market," Massimiliano Ladovaz, OneWeb CTO, said in a statement.
Relativity doesn't seem to be leaving much on the table by giving up on Terran 1. Ellis said two years ago, when the company announced Terran R, that there was strong demand for the smaller vehicle. "We see almost insatiable demand for that vehicle right now," he said of Terran 1 then.
But there are few announced customers for that vehicle. Iridium, which once signed a contract for up to six Terran 1 launches of individual replacement satellites, decided instead to launch all but one of them on a single Falcon 9 (that will be shared with OneWeb.) The company does have a NASA contract to launch cubesats through the Venture Class Launch Services program, as a demonstration of the Terran 1; that contract is being renegotiated now that Terran 1 is being retired.
"We can't wait to see them push on to the next evolutionary step in bringing the Terran R to market," said OneWeb's Ladovaz.
Relativity sees the market moving towards larger vehicles, better able to serve the demand from megaconstellations and other systems that need more mass (including, notably, national security missions.) It is not alone. Rocket Lab, perhaps the most successful small launch vehicle operator today with the Electron, is working on the larger Neutron. Firefly, whose Alpha is in roughly the same performance class as Terran 1, is working with Northrop Grumman on a redesigned Antares rocket as a precursor to its MLV vehicle.
That suggests tough time for companies focused on smaller vehicles, "microlaunchers" that can place a few hundred kilograms into orbit. On Friday, European launch vehicle developer Orbex, whose Prime vehicle in development is intended to place 180 kilograms into LEO, announced its founding CEO, Chris Larmour, was leaving the company.
"I feel I have taken it as far as I can personally, and it's time now to step away and let others lead Orbex to the next level," Larmour said in a company statement. That statement added that that the change would allow a "focus on new goals" but didn't elaborate, or provide an update on the development of Prime.
Which brings us back to Virgin Orbit. A few days after the Chapter 11 filing, the company asked the court to allow an expedited sale of the company or its assets, soliciting bids in early May that would lead up to an auction later that month. Their hope is that someone will step in who would not, our could not, before the filing, buying up the company and resuming launches, perhaps with a more streamlined structure that lowers costs.
But if the market is moving towards larger rockets, with existing vehicles or rideshare options good enough for smaller satellites, the business case may simply not close, particularly given the high costs of maintaining an air-launch system. It's tough to air launch anything much bigger than LauncherOne on a Boeing 747.
---
Note: we are using a new commenting system, which may require you to create a new account.