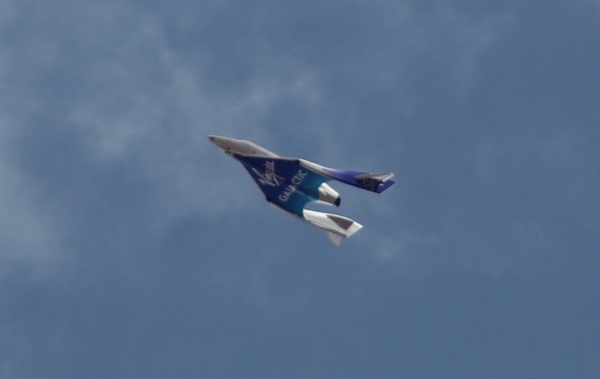 VSS Unity glides overhead on its way back to Spaceport America during the Galactic 01 flight June 29. (credit: J. Foust)
Regulating a maturing commercial spaceflight industry
by Jeff Foust

Monday, July 3, 2023
For a change, the significance of the flight was bigger than the spectacle.
Compared to nearly two years ago, when Virgin Galactic founder Richard Branson got his long-awaited suborbital spaceflight just days before rival Jeff Bezos (see "The suborbital spaceflight race isn't over", The Space Review, July 11, 2021), the atmosphere at Spaceport America last week was relatively subdued. There were no huge crowds of media or invited gusts, no celebrities or musical performances. Even Branson himself appeared to be absent, at least not making any public appearances at the spaceport.
"It was much better than expected. It was a beautiful ride," said Villadei of his suborbital spaceflight.
Instead, to an audience of Virgin Galactic employees, representatives of the Italian Air Force and Italy's National Research Council, and a small number of reporters, Virgin's SpaceShipTwo suborbital spaceplane VSS Unity took off attached to its VMS Eve mothership aircraft. The vehicles soon disappeared from view, as a stubborn cloud layer failed to burn off in the New Mexico skies. Unlike that 2021 flight, when clear skies allowed people on the ground to see Unity ascend after its release from Eve and ignition of its hybrid rocket motor, the crowd at the spaceport instead followed the flight on a larger video screen, watching the same webcast as everyone else.
Other than the clouds obscuring the view, the June 29 flight went as planned, with Unity reaching a peak altitude of 85.1 kilometers before gliding back to a runway landing at the spaceport. "It was excellent," Mike Moses, president of spaceline missions and safety at Virgin Galactic, said in an interview after the flight. "Everything was right down the middle."
The three Italian payload specialists on the flight (joined by two Virgin Galactic pilots and one Virgin employee in the cabin) were pleased with the flight. The three conducted 13 experiments, ranging from collecting biomedical data to combustion and fluid mechanics studies in microgravity.
"It was much better than expected. It was a beautiful ride," said Walter Villadei, an Italian Air Force colonel who served as commander of the research activities on the flight. He notably has also trained for orbital spaceflight, serving as a backup for Axiom Space's recent Ax-2 mission to the International Space Station. "It is a good environment and opportunity to really test all the things that astronauts are supposed to do once they get to the ISS."
"It was an incredible experience from the takeoff to the landing," said Pantaleone Carlucci of Italy's National Research Council.
Despite the lack of fanfare, the "Galactic 01" flight was significant for the company, marking the start of commercial operations. (The company had generated a small amount of revenue from earlier flights, such as flying payloads for NASA's Flight Opportunities program, but those missions were still primarily test flights.) Virgin Galactic performed this flight for the Italian Air Force under a contract signed in October 2019. The flight was, at one time, planned for early fall 2021, shortly after Branson's flight, but the company accelerated the start of maintenance of both Unity and Eve and delayed the flight.
Now, at long last, Virgin Galactic believes it is ready to begin a regular series of commercial flights. The first flight carrying private astronauts (aka space tourists), called Galactic 02, is planned for as soon as early August, with additional flights to take place on a monthly cadence.
"We're on that pace now where, on month-ish centers, we'll be able to just fly again and again. We've got them all planned out through the rest of this year," Moses said. "It is real to everybody now that we are doing this every month."
That monthly pace, he said, is driven primarily by the inspections needed on the vehicle between flights. That could be shortened slightly as the company gets more experience. "While we have just this one spaceship, flying one a month is a good cadence for us."
Mixed in with the private astronaut flights will be additional research flights like Galactic 01. Sirisha Bandla, vice president of government affairs and research operations at Virgin Galactic, said in an interview before the flight that the company is planning to conduct those research flights on a fixed schedule to help scientists plan both their payloads and their funding.
"The goal is to have it at the same time each year so that researchers can time their grants and their proposals through whatever agency funds their research and have predictable and reliable access for their science," she said. "The number one thing that we hear [from researchers] is we want repeatable and regular access to space."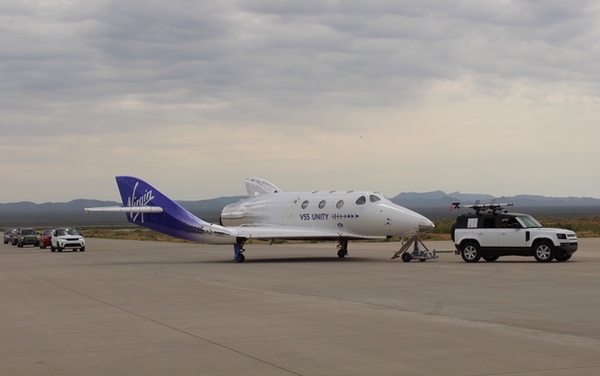 VSS Unity is towed back to the main hangar at Spaceport America after its June 29 flight. (credit: J. Foust)
Regulatory changes
As Virgin Galactic moves into a regular series of SpaceShipTwo flights, Blue Origin may be gearing up to resume flights of its New Shepard vehicle. It has been grounded since a mishap in September 2022 on a payload-only flight. The company said in March that the nozzle of the vehicle's BE-3PM engine suffered a structural failure caused by temperatures higher than designed. That failure triggered the capsule's abort system, which took it safely away from the propulsion module and allowed a normal parachute landing. The propulsion module crashed.
Speaking at the Investing in Space conference held by the Financial Times in London June 6, Blue Origin CEO Bob Smith said it was continuing to work with the FAA, which needed to approve the company's investigation into the failure and plans to return to flight.
"We're now dotting the i's and crossing the t's to get through that, as well as getting our system ready to go fly again," he said. "New Shepard, from that standpoint, should be ready to go fly within the next few weeks." The company has not provided an update on those return-to-flight plans since that conference nearly a month ago.
"We've got them all planned out through the rest of this year," Moses said. "It is real to everybody now that we are doing this every month."
He added that the mishap had not dampened customer interest in flying on New Shepard. "People saw a very safe system," he said, with "a real abort scenario where the capsule came down fine and was ready to go the next day." The company has signed up customers since that incident, but he did not disclose how many, or the backlog of customers. (Virgin Galactic has about 800 people signed up, including some who have been waiting for more than 15 years.)
Safety, while always a priority, has taken on new attention for the industry. Since the passage of the Commercial Space Launch Amendments Act of 2004, the commercial human spaceflight industry has been in a so-called "learning period" that restricts the FAA's ability to regulate the safety of spaceflight participants on those vehicles. That period, originally scheduled to run for eight years but extended several times, allows the FAA to regulate spaceflight participant safety only in the event of an accident that kills or seriously injures people on a flight, or for incidents where there was a strong chance of injuries or fatalities.
That learning period is now scheduled to expire at the end of September, and many in industry are lobbying for another extension. "The issue of the learning period is, should the government be limited to only regulate if there is evidence requiring regulation or should they be allowed to regulate prospectively without data, without any specific reason to regulate?" said Jim Muncy of PoliSpace during a panel discussion on the topic by the Beyond Earth Institute in May.
Getting an extension through Congress in time, though, may be difficult. Both the House and Senate are working on reauthorization legislation for the overall FAA, but neither version currently includes an extension of the learning period. The House Science Committee is working on its own commercial space bill that could include an extension, but its status and prospects remain uncertain.
"We have a divided Congress, so the ability to move an extension through may be a bit challenging this year," said Caryn Schenewerk, president of CS Consulting who previously worked on regulatory issues for Relativity Space and SpaceX, during that webinar.
"It doesn't mean we're recommending a large stockpile of regulations immediately. In fact, it's just the opposite," said RAND's McClintock.
Some think the learning period—sometimes called a moratorium—should not be extended. A report issued in April by the RAND Corporation recommended that the learning period be allowed to expire this fall, but called for the gradual development of regulations by the FAA, working with industry, rather than a sudden imposition of them.
"It doesn't mean we're recommending a large stockpile of regulations immediately. In fact, it's just the opposite," said Bruce McClintock, senior policy researcher at RAND, during the Beyond Earth webinar.
FAA officials have said they do not have a set of regulations that would be ready to go on October 1 if the learning period expires. Moreover, the federal rulemaking process, with notices of proposed rulemaking and public comment periods, means it could take years for any new safety regulations to be enacted once the FAA had the authority to do so.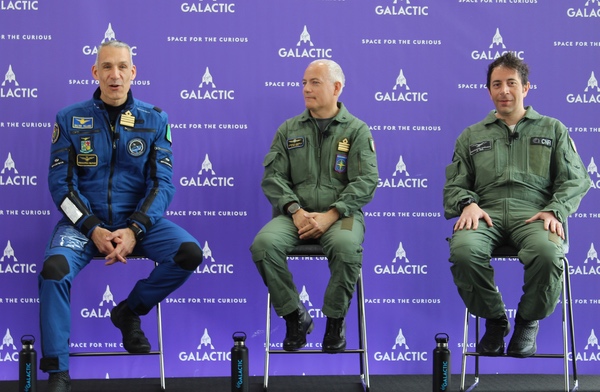 Walter Villadei, Angelo Landolfi, and Pantaleone Carlucci discuss their spaceflight experience during a press conference after the Galactic 01 flight. (credit: J. Foust)
Virgin Galactic's Moses, who also serves on the FAA's Commercial Space Transportation Advisory Committee (COMSTAC), says he is encouraged by the discussions his company, along with Blue Origin and SpaceX, have had with the FAA. That's included development of industry standards as well as planning for a new aerospace rulemaking committee at the FAA for human spaceflight occupant safety.
"The idea would be to take the data we've learned and use that to craft very specific, focused development areas," he said. "We should take that in small chunks. Trying to bite off the entire regulation package at once is difficult."
One issue, he said, is that the three companies currently flying people use very different approaches. "One set of regulations just won't apply to all," he said. That means crafting regulations that are more performance-based, such as requiring companies to develop restraint systems for spaceflight participants that can withstand specified loads, rather than prescribing a specific restraint system. "That's actually a fairly easy standard to write and one to turn into a regulation as opposed to the way airline regulations are, which are highly specific to a design."
But some in industry worry about the FAA's ability to take on a new set of regulations as it grapples with a growing commercial space transportation industry. Schenewerk noted that companies had hoped new launch licensing regulations, formally known as Part 450, would streamline the licensing process. Instead, companies have struggled with the new rules, which have only been used for a handful of launches; most launches are under older licenses that are grandfathered in for a few more years.
"This is where experience causes some skepticism," she said. Industry had advocated for regulatory reform for launch licensing, but the process in creating the Part 450 regulations were not as collaborative as industry liked. "I think there's a bit of trauma around that experience that carries forward."
RAND's McClintock said that any development of human spaceflight safety regulations would require additional resources for the FAA's Office of Commercial Space Transportation, or AST. One of the recommendations of the report, he said, was to "properly resource the FAA to take on this specific aspect of human commercial spaceflight regulation but also all the other aspects of oversight and support to the industry."
Those efforts face a new complication that has to do with an incident that took place not at the edge of space but below the surface of the ocean. On June 18, a submersible named Titan, built and operated by OceanGate, descended into the Atlantic Ocean on a trip to visit the wreckage of the Titanic. An hour and 45 minutes into the trip, it lost contract with its support ship on the surface, triggering an international search-and-rescue effort. Four days later, the US Coast Guard announced it found debris from the Titan on the ocean floor. The vessel likely imploded during its descent, killing the five people on board.
""If you step back and look at the specifics, these are really apples-and-oranges kinds of activities," Moses said of the comparisons of suborbital spaceflight with the Titan submersible.
That accident has led to discussions of the parallels between spaceflight and submersibles. Both are forms of adventure tourism with similar price points—OceanGate charged $250,000 a ticket, while Virgin Galactic now charges $450,000—and prestige associated with being part of a small community of people who have either been to the bottom of the ocean or in space. Both carried significant risks, though, with questions raised about safety and oversight.
OceanGate even borrowed the language of spaceflight for its expeditions, the New York Times reported, with its customers called mission specialists; the company referred itself as "SpaceX for the ocean." One of the people killed on the Titan last month, Hamish Harding, flew on Blue Origin's New Shepard last year. (Stockton Rush, the CEO of OceanGate and also on board the Titan, had been interested in going to space, but said he had an "epiphany" after seeing a SpaceShipOne flight in 2004 that he wanted to be a explorer rather than a tourist.)
How this will affect commercial human spaceflight and its regulations is unclear. One industry official privately said it now seems unlikely Congress will back an extension of the learning period, concerned about the perception it is giving a risky industry a free pass from regulations.
Moses said he was not concerned that the Titan accident would affect the commercial spaceflight industry. "If you step back and look at the specifics, these are really apples-and-oranges kinds of activities," he said. While safety of spaceflight participants is not currently regulated by the FAA, overall vehicle safety is, he noted, to protect the uninvolved public. "It certainly drives accountability. You're not totally unsupervised."
"Some of the things I've been seeing in the media make it sound like the learning period means there is no regulation. I have a multi-page license that's been active for years and the FAA is in every single control room," he added. "It's a very different thing in comparison to OceanGate."
At the Beyond Earth webinar in May, George Nield, former FAA associate administrator for commercial space transportation, tried to chart a middle ground between scenarios where there is no regulation at all and those with a large number of prescriptive regulations. The latter case, he said, might stem from a lack of trust in operators maintaining a safety culture and worries about cutting corners to save money, concerns that have been raised about OceanGate since the Titan accident.
"The question that I think we need to be focusing on is this: is it possible for us to have a commercial human spaceflight regulatory framework that takes advantage of what we've learned over the last 62 years of human spaceflight and encourages the continuous improvement of human spaceflight safety while still allowing advanced technologies, innovation, and new ways of doing business?" he asked. "I think the answer to that is yes." The industry will soon find out if he's right.
---
Note: we are using a new commenting system, which may require you to create a new account.