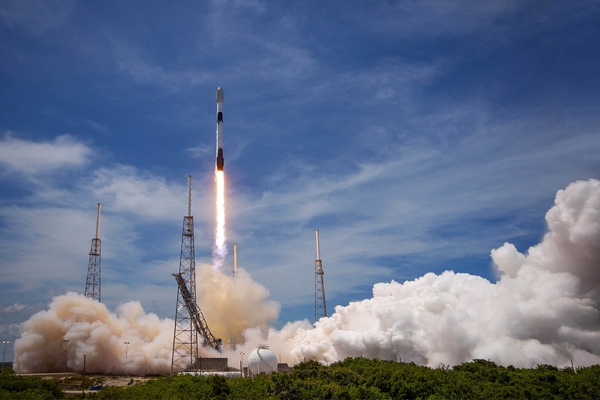 A Falcon 9 launches a Transporter rideshare mission in 2022. Such launches have become a leading way for companies and organizations to get smallsats into orbit. (credit: SpaceX)
For smallsats, two ways to orbit
by Jeff Foust

Monday, August 21, 2023
This month's annual Small Satellite Conference was the biggest yet. Nearly 4,000 people descended on the Utah State University campus for the event, packing the student center, field house, and various other buildings for nearly a week of presentations, meetings, and exhibits about the state of the field. It showed that the smallsat industry was as vibrant as ever, from increasingly ambitious student cubesat projects to new developments in larger commercial and government missions.
The biggest contributor to increased access to space for smallsats has come not from any single small launch vehicle, or even the whole family of small launchers, but instead SpaceX.
There was, though, one thing missing from the conference. In the past, the conference has usually had a track devoted to access to space, offering presentations on new or existing launch vehicles as well as rideshare opportunities. This year, though, there was no devoted track to space transportation and hardly any talks on the topic (an exception being one about a new Space Launch System adapter for cubesats that will be available late this decade for Artemis 5 and beyond) and little other news about launch at the conference.
That reflects the unusual state of the launch industry regarding smallsats. On one hand, it is easier than ever to find launch opportunities for such spacecraft, especially for those not particularly sensitive to schedule or orbit. On the other, there are, for most Western smallsat developers, only two options if they want to launch their satellites in the near future: buying a dedicated Electron launch from Rocket Lab or finding space on a SpaceX rideshare mission.
Hopping on the smallsat Bandwagon
For the last several years, the focus of smallsat launch had been on the rise of small launch vehicles that would offer dedicated and affordable space access. An ever-increasing number of vehicles were in various stages of development, some backed by hundreds of millions of dollars of investment; so many that the supply of launch seemed to far exceed even optimistic forecasts of demand, leading to predictions (including in this publication) of an inevitable shakeout.
Yet, the biggest contributor to increased access to space for smallsats has come not from any single small launch vehicle, or even the whole family of small launchers, but instead SpaceX. Just as that company has dominated the overall launch market, its line of Transporter dedicated smallsat rideshare launches has staked out a leading position in the smallsat market.
That interest in SpaceX's rideshare offerings was clear from a side meeting the company held during the conference. Attendees filled a majority of a nearly 500-seat lecture hall to get the latest on the rideshare program—and, perhaps, to get some candy or water bottles branded with the SpaceX rideshare program logo.
SpaceX officials made it clear at the conference that they remained committed to the rideshare program. The company has launched 682 spacecraft to date through the rideshare program, said Jarrod McLachlan, director of rideshare sales at SpaceX. Most have launched on the eight dedicated Transporter launches to date, although a handful have launched as "traditional" rideshare missions that had a primary payload, such as SpaceX's own Starlink satellites.
The company is expanding that rideshare program. McLachlan said that, in addition to the Transporter line of missions going to Sun-synchronous orbits, SpaceX was introducing a new line of dedicated launches called Bandwagon. Those will go to mid-inclination orbits at altitude of 550 to 605 kilometers.
"It's a way of meeting the demand for the second most commonly asked orbit," he said of the Bandwagon missions. Some Earth observation companies, for example, have used such orbits for enhanced coverage of mid-latitude regions, supplementing the global coverage provided by satellites in Sun-synchronous orbits.
Four Bandwagon missions are currently planned: April and November of 2024 and February and May of 2025. McLachlan said that SpaceX will continue to offer Transporter missions—although all its 2024 missions are booked, according to the company's website—as well as the occasional traditional rideshare opportunity.
Much of the meeting dealt with the nuts and bolts—literally, in some cases—of the rideshare program. A new "rideshare plate" adapter system for smallsats makes it easier to accommodate a more diverse set of payloads on rideshare missions, simplifying the engineering and testing process and increasing the volume available for satellites. Improvements to the web interface streamline the process for customers to sign up for rideshare opportunities, and for SpaceX to track them.
"SpaceX has completely changed the paradigm of rideshare launches," said Allarie. "Rideshare launches have never been so reliable and affordable."
Many Transporter customers, though, don't sign up directly with SpaceX but instead with several companies that serve as aggregators. Those companies line up customers and arrange to host them on Transporter missions, in some cases offering additional services like orbital transfer vehicles that can deploy those satellites into different orbits. The most recent Transporter launch, Transporter-8 in June, included payloads arranged by D-Orbit, Exolaunch, Launcher, Maverick Space Systems, and Momentus, in addition to customers that worked directly with SpaceX.
Those and other companies, like ISILaunch, SEOPS, and, until recently, Spaceflight, have worked for many years to find rideshare launch opportunities on launch vehicles around the world. (Spaceflight, a pioneer in rideshare launches, was acquired in June by Firefly Aerospace, who said it would not accept any new customers for Spaceflight so it could focus on its own launch services.) The introduction of Transporter missions, with both a regular cadence as well as large capacity, has been a godsend to aggregators.
"SpaceX has completely changed the paradigm of rideshare launches," said Jeanne Allarie, chief commercial officer of Exolaunch. "Rideshare launches have never been so reliable and affordable."
Exolaunch has extensively, but not exclusively, relied on Transporter missions, including 32 on Transporter-8. It also flew a few smallsats on an Indian Polar Satellite Launch Vehicle mission in July, along with arranging the July launch of Telesat's LEO 3 tech demo smallsat for its Lightspeed constellation on an Electron.
A competing aggregator agreed. "The relationship is very good," said Renato Panesi, chief commercial officer of D-Orbit. His company has been on every Transporter mission to date, flying its ION tug with several smallsats and hosted payloads on Transporter-8. "SpaceX is the only alternative if we think about recurrent flying."
The only quibble among smallsat customers for Transporter mission has been their price: SpaceX has increased the price since their introduction and now charges $5,500 per kilogram. At the conference meeting, McLachlan said that SpaceX plans to increase that per-kilogram price by $500 a year for the foreseeable future. However, he added that customers who pay in full at contract signing are charged the current price even if that launch is booked for years in the future.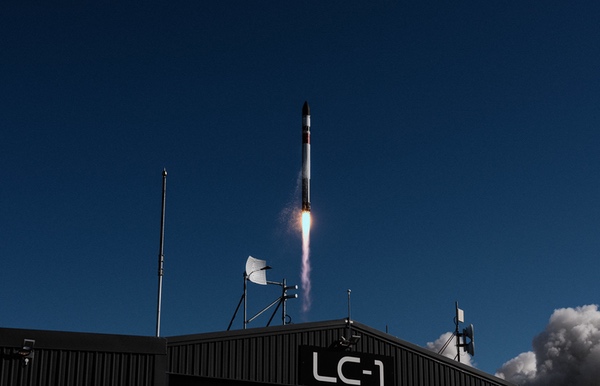 A Rocket Lab Electron launches in July from the company's Launch Complex 1 in New Zealand. Electron has surged ahead of "aspirational" competitors in the small launch market, in the eyes of company CEO Peter Beck. (credit: Rocket Lab)
Defecting to Rocket Lab
Small launch vehicle operator Rocket Lab didn't make any special announcements at the Small Satellite Conference itself, keeping its presence there to a booth in the exhibit hall and a popular reception one evening (something SpaceX did to raise its profile at the conference two decades ago when it was offering the Falcon 1.) However, the conference coincided with the company's quarterly earnings announcement, which offered a platform to announce new contracts.
The biggest was a five-launch deal with BlackSky, an operator of imaging satellites that had launched several previously on Electron. Those launches, scheduled to begin next year, will carry BlackSky's new Gen-3 satellites, capable of producing images with resolutions as sharp as 35 centimeters.
Rocket Lab used the contract to emphasize the benefits of dedicated launches. "Building and maintaining a constellation requires precision deployment to unique orbits and a dependable launch schedule," CEO Peter Beck said in a statement. "We're proud to deliver this dependable and tailored capability launch after launch, year after year."
At the same time, Rocket Lab announced a contract with an undisclosed customer for a launch of the suborbital variant of Electron, called Hypersonic Accelerator Suborbital Test Electron (HASTE), which flew for the first time in June, two months after Rocket Lab announced it. Rocket Lab followed that up last week with an award from NASA for two Electron launches of the agency's Polar Radiant Energy in the Far-InfraRed Experiment (PREFIRE) cubesats to study energy entering and existing the polar regions, followed by a contract with Japanese company iQPS for a launch of its radar-imaging satellite on an Electron in September.
The iQPS contract is noteworthy since that company originally planned to launch that satellite, designated QPS-SAR-5, on Virgin Orbit's LauncherOne. The launch was planned for early this year but never took place, delayed by the January LauncherOne failure and then cancelled when Virgin Orbit filed for Chapter 11 bankruptcy and sold its assets to several companies (see "Death of a launch company", The Space Review, May 30, 2023.)
Neither iQPS nor Rocket Lab explicitly mentioned the Virgin Orbit bankruptcy in the announcement but alluded to it. "This is exactly the kind of mission Electron was designed for and has delivered on time and time again: a customer urgently seeking dedicated launch to a unique orbit on a rapid timeline," Beck said in the statement announcing the contract.
"We've seen defections from all of the aspirational launch providers," Beck said.
"We highly appreciate Rocket Lab and our team for all their efforts in arranging this new launch contract as it is very meaningful for us to quickly deploy the satellites into orbit," said Shunsuke Onishi, CEO of iQPS, in the same statement. (In addition to Virgin Orbit's bankruptcy delaying one satellite's launch, iQPS lost two others in a failure of Japan's Epsilon launch vehicle last October. It did get a satellite into orbit in June on Transporter-8.)
Rocket Lab is becoming the only option for many customers seeking dedicated launches as other providers encounter difficulties. Astra, for example, withdrew its Rocket 3.3 vehicle from the market a year ago after a series of failures, saying it would devote its resources to its larger Rocket 4 under development. But as Astra's finances are strained, the company is shifting those resources to a separate unit that builds electric propulsion systems for satellites.
Early this month, Astra announced it reassigned 50 employees from launch vehicle to spacecraft propulsion work, while also laying off 70 other employees. The moves were intended to conserve its remaining cash while it worked to find new funding, but executives acknowledged it would push the first launch of Rocket 4 to some time next year—assuming the company survives until then.
Other companies are facing a combination of technical or business issues. ABL Space Systems is still working to return its RS1 rocket to flight after the failure of its inaugural launch in January. Relativity Space decided to retire its Terran 1 rocket after a single, unsuccessful launch in March so it could work on the much larger Terran R. Firefly, which reached orbit with its Alpha rocket last fall, has not launched since as it waits for the go-ahead from the Space Force for a responsive launch demo.
In Europe, Orbex, a company working on a small launch vehicle called Prime, had its founding CEO, Chris Larmour, suddenly resign in the spring, saying he had taken the company "as far as I can personally." Orbex has since hired a new CEO, Martin Coates, but provided few updates on the progress of Prime.
Spain's PLD Space attempted a suborbital launch of its Miura 1 rocket, a prototype of its Miura 5 small launch vehicle, in June, only to abort the launch when umbilical cables failed to separate from the rocket as required. The company has rescheduled the launch for no earlier than September from a military base in southwestern Spain.
Through those technical and fiscal setbacks, Rocket Lab has pressed ahead, conducting seven Electron launches so far this year, including the one HASTE suborbital launch, out of 15 planned for 2023. Rocket Lab has not been immune from issues, though: an Electron launched for late July was scrubbed twice because of "unusual data" from an engine sensor. That launch has been rescheduled for this week.
"We've seen defections from all of the aspirational launch providers," Beck said in an interview in July. That included Northstar Earth & Space, a Canadian company developing a satellite constellation to collect space situational awareness data that moved the launch of its first satellites from Virgin Orbit. NASA also moved the launch of its four Starling cubesats, to test formation flying technologies, from Firefly's Alpha to the Electron that launched in July.
He attributed that to the long-anticipated industry shakeout as customers started to see which companies were real and which were not. "When we're all young and growing up, we all had equal mission risk because we all had single-digit numbers of launches, and it was a level playing field," he said. "I think it's very difficult now to take that extra risk for the delta in cost." The next Electron launch will be the 40th flight of that vehicle.
He added the company was also picking up customers who had been flying on Transporter missions. "What we find is that customers will send up a couple of spacecraft on a Transporter, do a mission demo, and when they actually need to build out their constellation to their desired orbits, that's when they come and see us."
How long the smallsat industry's reliance on the combination of Rocket Lab's Electron and SpaceX's Transporter remains unclear. D-Orbit's Penasi said in July he expected that situation to last to late 2024 or early 2025, changing only as new vehicles enter service.
"If people are saying there's no market for small launch systems," Spurmann concluded, "I can't agree."
At the conference, two German companies seeking to break into the smallsat launch market had booths around the corner from each other in the exhibit hall. Isar Aerospace is working on its Spectrum vehicle, which could make its debut before the end of the year from Norway, backed by a $165 million funding round in March. Rocket Factory Augsburg (RFA) is planning a first launch of its RFA ONE rocket in the second quarter of 2024 from the Shetland Islands.
During the conference, RFA announced it had raised €30 million (US$32.7 million) from private equity firm KKR, an investment announced simultaneously with a deal by KKR to buy out the minority shareholders in RFA's parent company, OHB, and take it private.
The new funding will be enough to get RFA to a first orbital launch, said Jörn Spurmann, chief commercial officer of RFA, in an interview at the conference. He noted the company had recently completed testing of the RFA ONE's upper stage and was now focused on testing the first stage and completing the launch pad.
He was optimistic about the state of the market at RFA's niche in it, with a vehicle capable of placing more than one ton into orbit. RFA has signed launch service agreements with ten customers, who he said are seeking dedicated launches rather than Transporter rideshare missions.
"If people are saying there's no market for small launch systems," he concluded, "I can't agree."
---
Note: we are using a new commenting system, which may require you to create a new account.