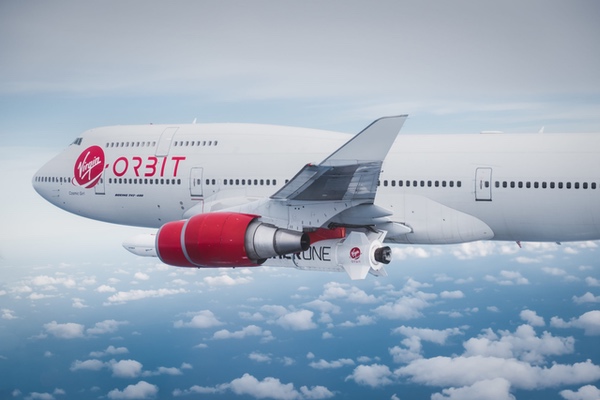 Virgin Orbit hoped a bankruptcy auction would bring in a new investor to rescue LauncherOne. Instead, its assets were bought by several companies. (credit: Virgin Orbit)
Death of a launch company
by Jeff Foust

Tuesday, May 30, 2023
LauncherOne made its public debut, like so many other things associated with Richard Branson, in a blaze of publicity. Branson and Virgin Galactic used the Farnborough International Airshow in England in July 2012 to announce the company's plans to develop a small launch vehicle that would use the same WhiteKnightTwo plane developed for its SpaceShipTwo suborbital space tourism vehicle. (It switched a couple years later to a Boeing 747.) Branson brandished a model of that LauncherOne rocket from a window of a full-scale replica of SpaceShipTwo, surrounded by photographers, saying the rocket would start launching smallsats by 2016 for less than $10 million a launch. He also announced, for good measure, that SpaceShipTwo would begin commercial suborbital flights in December 2013.
"We're not looking or in the business of making a major UK investment in acquiring a platform that hasn't worked," said Freeman, the UK space minister.
LauncherOne met its demise behind the closed doors of a bankruptcy auction last week. At the auction, three aerospace companies and one liquidator submitted high bids with a combined value of about $36.5 million for most of the assets of Virgin Orbit, the company spun out of Virgin Galactic in 2017 to develop and operate LauncherOne. The company, in a brief statement May 23, confirmed that it would cease operations once the sales were finalized. LauncherOne would not fly again.
Virgin Orbit had filed for Chapter 11 bankruptcy in early April as it exhausted it cash, days after laying off all but 100 of its nearly 800 employees (see "Go big or go home?", The Space Review, April 17, 2023). The company held out hope, though, that someone would buy the entire company and continue operations, emphasizing that the remaining employees were continuing preparations for the next LauncherOne mission—a return to flight after January's launch failure—later in the year.
The company was laying the groundwork for that emergence even before the bankruptcy auction. In a filing with the Securities and Exchange Commission in mid-April, it said that, if was able to resume operations under new ownership, it planned to hire back some workers, growing to 275 employees by the end of the year. "Thereafter in 2024, we would seek to increase our launch rate," the company stated.
That required a suitor to put in a high bid in an expedited bankruptcy auction process that would play out over the first few weeks of May. That process was intended to maximize the money raised for Virgin Orbit's creditors, but allowed it to accept bids for subsets of the company: specific assets, like its Boeing 747 aircraft that served as LauncherOne's launch platform. The whole might be worth less than the sum of its parts.
In a May 8 statement, Virgin Orbit said it had received more than 30 "indications of interest" in the company's assets as part of the auction process. That included, it said, "multiple parties that proposed to continue to operate the business as a going concern and retain current employees in an integrated enterprise." Company CEO Dan Hart said he was "pleased" with the interest, "which we believe reflects the innovative ideas and hard work the team has put into the development of this unique system."
It was not clear, though, who any of the "multiple parties" reportedly interested in buying all of Virgin Orbit were. No companies or organizations expressed publicly any interest in buying all of the company and keeping it running.
Some turned to the British government as a potential suitor. The Branson connection and Virgin Orbit's role in hosting the first orbital launch attempt from UK soil in January (albeit an unsuccessful one) appeared to fit into the government's interest in developing a domestic launch capability. There was also precedent: in 2020, the government partnered with Indian telecom company Bharti Global to buy broadband satellite company OneWeb out of Chapter 11, allowing it to proceed with the deployment of its constellation.
A government minister, though, ruled that out while the auction process was ongoing. "We're not sitting here thinking of making a major acquisition, and acquiring and developing a UK sovereign launch capability," said George Freeman, minister for science, innovation, and technology, at a May 17 hearing by a Parliament committee.
He said the government had "taken a close interest" in Virgin Orbit but declined to make a bid. "As minister for the space industry here, we stand ready to support a specific proposal that looks sustainable—financially sustainable and commercially sustainable—but we're not looking or in the business of making a major UK investment in acquiring a platform that hasn't worked."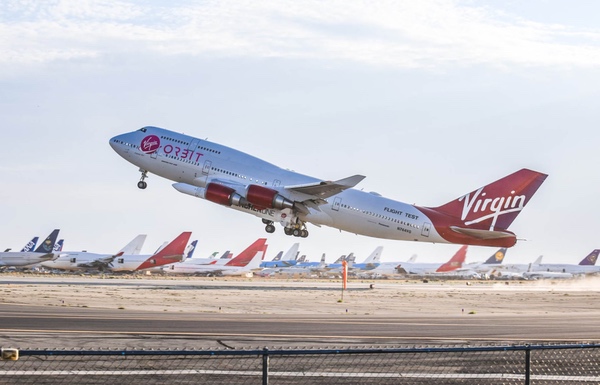 Virgin Orbit's 747 attracted interest, but its launch system found no takers. (credit: Virgin Orbit)
Alternate histories
It is not clear, in the end, that anyone submitted a bid for the entire company. Hart, in a filing with federal bankruptcy court after the conclusion of the auction, said the company "received indications of interest from Potential Bidders for several distinct groups of assets that included machinery and equipment, leases, an aircraft, and inventory." He said Virgin Orbit decided to split the assets into several segments.
Rocket Lab, in a statement, said the purchase of the Virgin Orbit facility and equipment would help it develop Neutron. It emphasized, though, it was not acquiring Virgin Orbit's launch systems or technologies.
Three of the segments ended up going to companies that reflected alternate futures for Virgin Orbit, had its technology or finances gone in different directions. One segment, the company's headquarters and main manufacturing facility in Long Beach, California, along with the machinery and equipment inside it, went to Rocket Lab for $16.1 million. Rocket Lab was a competitor to Virgin Orbit in the small launch sector, but one with a better technical and business track record. While Virgin Orbit conducted only six launches in its history, Rocket Lab conducted its 37th Electron launch last week almost exactly six years after the first. That launch was also its fifth of 2023, with up to ten more projected through the end of the year.
Rocket Lab, like Virgin Orbit, went public through a merger with a special purpose acquisition company (SPAC), completing its SPAC deal within days of Virgin Orbit announcing its merger. That timing was critical: Rocket Lab was early in the wave of SPAC deals, raising hundreds of millions of dollars it could use to diversify its business and invest in Neutron, a medium-class reusable rocket.
In contrast, by the time Virgin Orbit's SPAC deal closed at the end of 2021, investor interest in SPACs in general had soured, and Virgin Orbit raised less than half the funding it projected. Hart, in an affidavit filed with the court shortly after the Chapter 11 proceedings started in April, said that the shortfall in capital raised by the SPAC deal led the company to hire Goldman Sachs in early 2022 to help raise capital or even sell the company. Those efforts failed to raise money.
Rocket Lab, in a statement, said the purchase of the Virgin Orbit facility and equipment would help it develop Neutron, particularly since that facility was just a few blocks from Rocket Lab's Long Beach headquarters. The company emphasized, though, it was not acquiring Virgin Orbit's launch systems or technologies.
"With Neutron's design and development well-advanced, this transaction represents a capital expenditure savings opportunity to augment our production capability to bring Neutron to the launch pad quickly to serve our customers and their future success," said CEO Peter Beck.
A second segment of Virgin Orbit's assets, its test facility and equipment in Mojave, California, went to Launcher for $2.7 million. That company was also once a competitor to Virgin Orbit in the small launcher sector. But, in February, it announced it was acquired by Vast, a well-funded startup focused on developing commercial space stations (see "A vastly different approach to space stations", The Space Review, May 15, 2023).
As part of the acquisition, Launcher dropped plans to build its own launch vehicle, but said it would continue work on the rocket engine it had been developing for it, instead offering it to other customers. In a court filing, Max Haot, founder of Launcher and now president of Vast, said the Mojave facilities that Virgin Orbit owned would allow it "to increase its development and test cadence" of that engine, which it has been testing at NASA's Stennis Space Center.
A third segment, the Boeing 747 plane and related equipment, went to Stratolaunch for $17 million. Stratolaunch was the only company that had shown a public interest in Virgin Orbit before the auction, reaching a deal to make that offer for the plane as a "stalking horse bid" for the auction that set a floor for any other offers.
Stratolaunch, too, was once in the launch business, famously developing a giant aircraft called Roc without being sure exactly what it would launch—at one point, the company considered having the plane carry three Pegasus XL rockets at a time. The company, under new ownership after the death of billionaire founder Paul Allen, later shifted to using the plane as a platform for hypersonic vehicles; it performed a drop test of one such vehicle, called Talon TA-0, earlier in the month. (Virgin Orbit had also considered expanding into hypersonics and missile defense testing, but never made much public progress in those markets.)
Stratolaunch, in a statement, said the acquisition of the 747 would allow it to increase its capacity for hypersonics testing, working alongside Roc. "With Roc remaining as our mainstay aircraft, an additional 747 brings expanded capabilities and flexibility to our platform," said Stratolaunch CEO Zachary Krevor. "We will be able to increase both our flight test capacity and reach to become an even stronger partner to global customers."
"With Roc remaining as our mainstay aircraft, an additional 747 brings expanded capabilities and flexibility to our platform," said Stratolaunch CEO Krevor.
Stratolaunch said the plane will enter operations next year after undergoing unspecified modifications to support hypersonics testing. The company released illustrations of the plane in new Stratolaunch livery, releasing a Talon hypersonic vehicle, and added that the plane, which had been known as "Cosmic Girl" since its time as a Virgin Atlantic airliner, will be renamed.
Equipment that Virgin Orbit had in a second facility in Long Beach was sold to a liquidation company, Inliper Acquisition LLC, for $650,000. However, the company did not sell the final segment of its assets, its inventory that included several LauncherOne rockets in various phases of production. Virgin said in a court filing that it was in "their business judgment" not to continue the auction of those items at this time, but didn't elaborate. It is possible that the value of that hardware is now not sufficiently different than if it was scrap.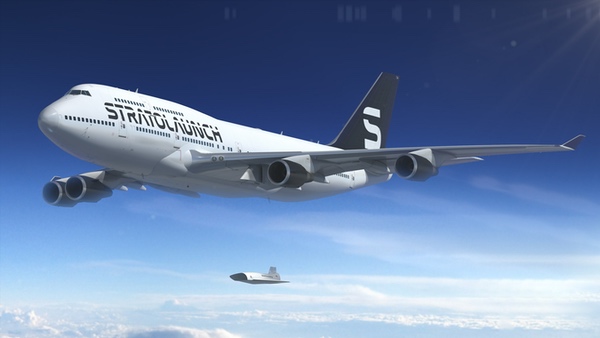 Stratolaunch spent $17 million acquiring Virgin Orbit's "Cosmic Girl" plane, which will get a new mission supporting hypersonic research—as well as a new name and paint job. (credit: Stratolaunch)
Air launch doesn't take off
The court filing about the bankruptcy auction noted that no "next-highest bidders," who would be eligible to step in and buy the assets if the high bidders were unable to close their deals, were selected. That suggested there were no other bidders for those assets, or for the company as a whole.
So why did no one ride to the rescue of Virgin Orbit? Some in the industry had hoped for a scenario like what happened more than two decades ago with Iridium, when that satellite constellation company filed for Chapter 11 and came close to shutting down and deorbiting its satellites before it was sold. The new Iridium has flourished since then, becoming a profitable venture that was able to finance a second-generation satellite system.
In the case of Iridium, though, most of its costs had already been incurred by the time it reached Chapter 11 bankruptcy, its constellation nearly complete. A new owner could come in and buy the assets for pennies on the dollar, then spend a relatively modest amount of money to operate the satellites. That, along with the foundation of a Defense Department contract, gave the company breathing room to grow the business gradually.
Virgin Orbit did not have that luxury. It had to keep producing rockets and maintain its aircraft, high costs that became a burden on the company. At a higher flight rate, those costs could perhaps be more effectively amortized, but Virgin Orbit was never able to achieve its promised high flight rates—a dozen or more missions a year—launching only twice in 2021 and again in 2022.
There is a commonly expressed belief that Virgin Orbit's January launch failure led to its bankruptcy filing in April and eventual breakup. Had the launch been a success, they argue, the publicity surrounding the first orbital launch from the UK would have attracted new customers and new investors, keeping the company afloat (or aloft).
In the end, investors put more than $1 billion into a venture that, at its best, could demonstrate the technical viability of air launch, but could not prove its financial viability.
That could have happened, but it was clear from the company's bankruptcy filings that it struggled to find investors long before that launch failure. Virgin Orbit was losing roughly $50 million a quarter—it ended 2022 with a net loss of $191.1 million—and any new investment might have only delayed the inevitable.
Virgin Orbit had trumpeted the unique strengths of air launch, including the ability to fly from almost any airport that can accommodate a 747. But there was insufficient demand for those benefits to overcome the high costs of operating the system. A clear warning sign, in retrospect, was the Space Force's award of a launch contract for a "tactically responsive space" demonstration last September not to Virgin Orbit, whose LauncherOne seemed well-suited for it, but instead to Firefly Aerospace, whose Alpha rocket was just about to make its first successful orbital launch.
In the end, investors put more than $1 billion into a venture that, at its best, could demonstrate the technical viability of air launch, but could not prove its financial viability.
Other launch companies could soon follow. Astra disclosed earlier this month it was down to $62.7 million in cash and equivalents on hand after a $44.9 million net loss in the first quarter. It reported no revenue in the quarter.
Astra, which retired its failure-prone Astra 3.3 last year and is still working on the larger Rocket 4, remained optimistic despite its dwindling cash. The company "has several levers that we think help us continue to improve our cash runway," CFO Axel Martinez said in an earnings call, but did not disclose what those levers are and how much additional runway they might provide.
Branson, who waved a model of LauncherOne aloft at Farnborough more than a decade ago, had remained quiet in public about the fate of that venture. He was in New Mexico last week to see Virgin Galactic's first suborbital spaceflight since his own trip in July 2021. That event was uncharacteristically low-key for Branson and Virgin Galactic: unlike Branson's flight, there were no media invited to Spaceport America and no webcast of the flight, just a slow trickle of tweets confirming the flight went as planned.
A video he tweeted showed him watching the ascent of SpaceShipTwo from the spaceport, saying nothing as a nearby group cheered. After the flight, Virgin Galactic announced it was now on track to begin commercial service as soon as next month, only nine and half years later than Branson's estimate at Farnborough.
---
Note: we are using a new commenting system, which may require you to create a new account.