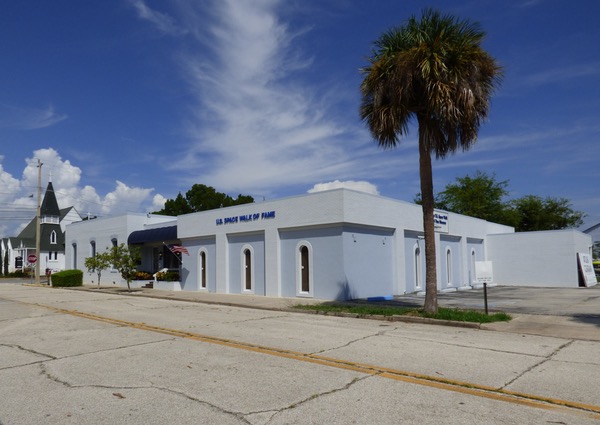 The unassuming exterior of the US Space Walk of Fame Museum in downtown Titusville, Florida, a short drive from the KSC Visitor Complex. (credit: J. Foust)
An alternative space pilgrimage
by Jeff Foust

Monday, September 21, 2015
If you're a space enthusiast who has traveled to Florida, you're probably made the trip—pilgrimage, even—to the Kennedy Space Center Visitor Complex. You've taken the bus tour past the Vehicle Assembly Building and Launch Complex 39 and over to another building where, inside, a Saturn V rocket sits on its side. At the complex itself you've seen IMAX movies and gone on a shuttle simulator ride (narrated by former astronaut Charles Bolden before he became NASA administrator), and toured the "rocket garden" of smaller rockets. If you've visited in the last two years, you've also been able to see the shuttle Atlantis in its impressive new building (see "Seeing the shuttles, two years after wheels stop", The Space Review, July 22, 2013).
In short, it's an impressive experience for anyone with even the slightest interest in spaceflight. But it's also an expensive one: tickets cost adults $50, and $40 for children; special packages, like "Lunch with an Astronaut," cost even more. Even parking now costs $10 per car at the center. Pilgrimages aren't cheap.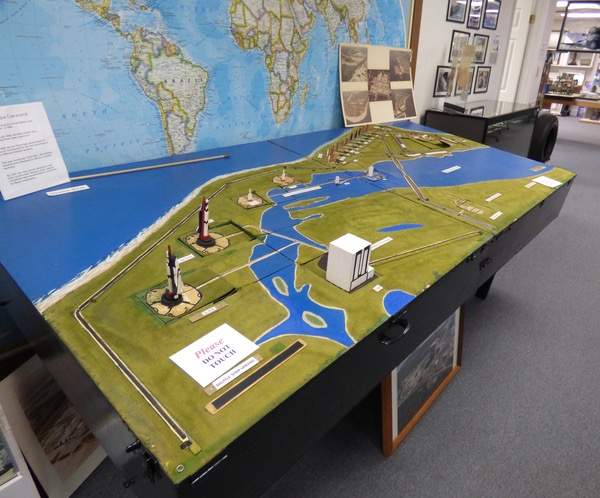 A model of KSC and Cape Canaveral Air Force Station, showing the location of the various launch sites and other buildings, on display at the museum. (credit: J. Foust)
Compare that with the US Space Walk of Fame Museum, a short drive northwest of the KSC Visitor Complex in downtown Titusville, Florida. The small museum is no competitor to the massive KSC, and, for many people, may not be all that interesting. But for genuine space enthusiasts, particularly those interested in the history of KSC and Cape Canaveral, it's worth the brief detour.
The museum, located in a small, cramped historic building just off Route 1, is a collection of artifacts and other memorabilia from the Cape's history. While the KSC Visitor Complex walks a fine line between the past (Saturn V and Space Shuttle) and future (playing up plans for future human exploration of Mars), this museum is focused solely on the Cape's past, including some past visions of its future: models of shuttle-derived heavy-lift launchers, and the Ares vehicles of Constellation, are on display.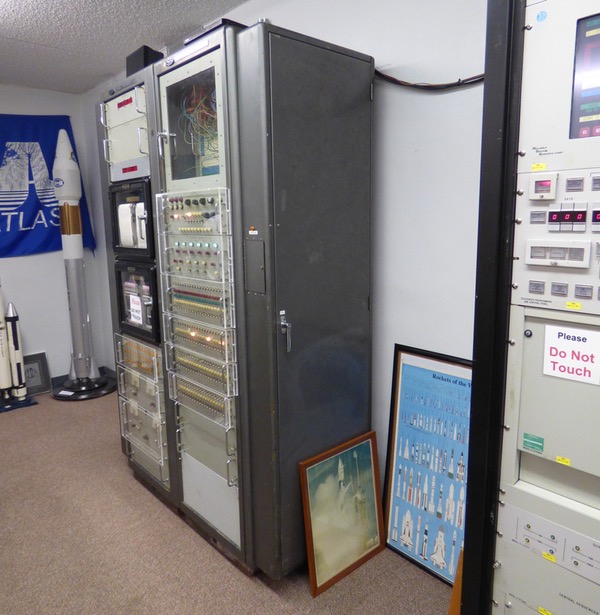 A sequencer used to control the final minutes of countdowns at Cape Canaveral. The machine has been restored and is used by the museum to simulate countdowns. (credit: J. Foust)
At times the museum seems like a hodgepodge of memorabilia. One room featured framed pictures of astronauts, many of them autographed, but also picture of other people—space program workers?—in collages with newspaper clippings, telling a story that may not be clear to the average visitor. Other rooms have a variety of items: a hardhat with "J. GLENN" stenciled on it; the crumpled remains of a hatch of a Mercury capsule from an early, unmanned, test; a tabletop-sized diorama of KSC and Cape Canaveral Air Force Station, showing all the launch sites; and consoles used for managing shuttle launches. The collection is at times random, but often interesting, at least for space enthusiasts.
The collection also doesn't get a lot of foot traffic. During a visit there midday on a Saturday, only one other person was touring the museum. A volunteer docent who was a retired Cape worker offered to provide a personalized tour, and had plenty of time to show off one of the museum's prized items, a sequencer—a primitive computer—used to control launches in the early days of Cape Canaveral. That cabinet-sized sequencer has been restored to working order, making clattering noises and flashing lights as it simulated the final few minutes of a countdown.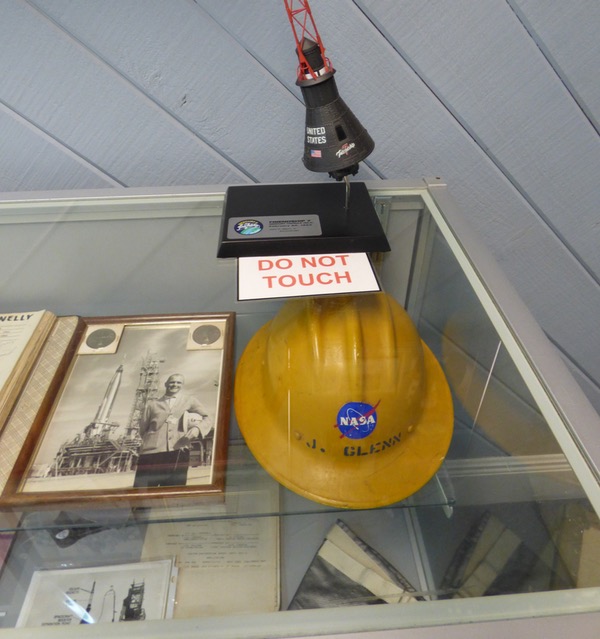 A hardhat with John Glenn's name on it from the Mercury program. (credit: J. Foust)
The museum is probably not for everyone: the collection of artifacts, seeming jumbled at times, might be puzzling or boring for the average person, at least when compared to the amusement park-like experience of the KSC Visitor Complex. Those, though, with an interest in space history might find a quick drive up Route 1 to the museum worth the trip, particularly at an admission price of just $10. And the parking is free.
---