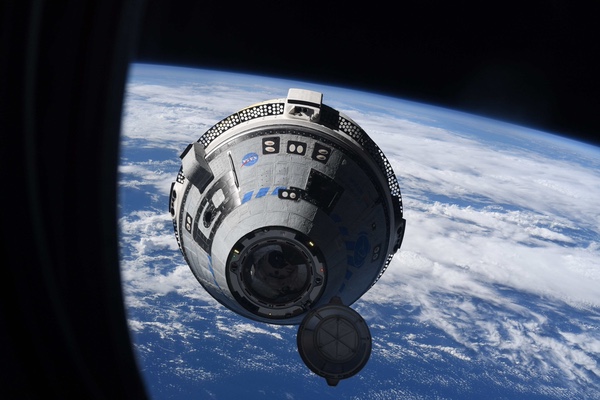 ESA astronaut Samantha Cristoforetti took this image of Starliner approaching the station just before its docking May 20. (credit: ESA/NASA)
For Starliner, better late than never
by Jeff Foust

Monday, May 23, 2022
Two and a half year ago, Boeing and NASA were excited about the first uncrewed test flight of the company's CST-100 Starliner commercial crew vehicle. The company pulled out all the stops for the Orbital Flight Test (OFT) mission for media at the Kennedy Space Center, erecting a large tent at the press site for briefings and other events in the days leading up to the launch and even showing off its "AstroVan II" it developed with Airstream to transport astronauts to the launch pad for later crewed flights.
"We're ready," Wilmore said. "This spacecraft is ready. These teams are ready. Boeing is ready. ULA is ready… we're excited."
Last week, the excitement of OFT was replaced by something closer to ennui for OFT-2. Boeing kept a low profile at the event, with no media tent and no AstroVan II. NASA wasn't very excited either, it seemed: it didn't start its live coverage of the launch on NASA TV until less than an hour before liftoff, and a "leadership media briefing" the day before had, as the highest-ranking agency official, associate administrator Bob Cabana (a similar briefing before last month's SpaceX Crew-4 launch of astronauts included administrator Bill Nelson.) Media in general preferred to cover the launch from a distance, rather than at KSC.
That low profile reflects the disappointment in the progress Starliner has made in the last two and a half years. Just before OFT, the vehicle seemed not far behind SpaceX's Crew Dragon, which flew its Demo-1 uncrewed mission to the station nine months earlier. With SpaceX subsequently losing that spacecraft in a ground test of its abort thrusters, there was still a shot that Boeing could get astronauts to the station ahead of SpaceX provided it had a clean test flight.
Boeing, of course, did not. An improperly set timer in the spacecraft caused the mission to go haywire immediately after being released from its Centaur upper stage. Starliner never made it to the space station on OFT, landing two days later (see "The year of commercial crew comes to an end, without crew," The Space Review, December 23, 2019). Weeks later, NASA and Boeing disclosed they had to fix software on the spacecraft while it was in orbit to prevent the service module from bumping back into the crew capsule after separation, which could have jeopardized the capsule's reentry.
Then came the first attempt to launch OFT-2 last summer, scrubbed just hours before liftoff when propellant valves in the service module failed to open (see "Starliner sidelined", The Space Review, August 16, 2021). Engineers discovered that the valves had corroded shut, after nitrogen tetroxide seeped through Teflon seals of the valves and reacted with ambient moisture to create nitric acid. Boeing developed a series of short-term fixes—delaying the loading of nitrogen tetroxide and purging the valves with nitrogen gas to remove moisture—to keep it happening again, while not ruling out design changes to the valve itself down the road.
In the leadup to last week's launch, Boeing officials said the believed they had fixed, at least for now, the valve problem and other issues with Starliner. Mark Nappi, vice president and commercial crew program manager at Boeing, noted that as part of the mitigations for the valve problem, controllers regularly cycled the valves to make sure they were moving as expected. "They're working really well," he said at one prelaunch briefing.
The NASA astronauts who have been training for years to fly on Starliner also exuded confidence. "We wouldn't be here right now if we weren't confident that this would be a successful mission," said Butch Wilmore at a briefing the day before the launch, when asked how he felt about this launch attempt versus previous ones for Starliner.
"We're ready," he said. "This spacecraft is ready. These teams are ready. Boeing is ready. ULA is ready. The mission ops folks who will control the spacecraft in space are ready, and we're excited."
Helpfully, the weather was ready, too, and the Atlas 5 lifted off Thursday evening after a trouble-free countdown. A half-hour later, controllers confirmed that Starliner has performed its orbital insertion burn, suggesting that all was well as the spacecraft headed towards the ISS.
"This was a really critical demonstration mission," said Lueders. "Seeing that vehicle docked now to the ISS is just phenomenal."
Or, at least, mostly well. At a post-launch briefing a couple hours after liftoff, NASA and Boeing revealed that 2 of 12 aft-facing Orbital Maneuvering and Attitude Control (OMAC) thrusters shut down during the orbital insertion burn. Nappi said the first one shut down after just one second, and the spacecraft switched to a second thruster in the same pod, of "doghouse," on the service module. That second thruster shut down 25 seconds later, but a third thruster in that pod took over for the remainder of the 40-second burn.
Other thrusters worked fine during the burn, and Nappi emphasized there was plenty of redundancy in the system to ensure both the success of that maneuver and others the thrusters would perform to bring the spacecraft into the vicinity of the station. "The system is designed to be redundant and it performed like it was supposed to," he said. "Now the team is working the why, as to why we had those anomalies occur."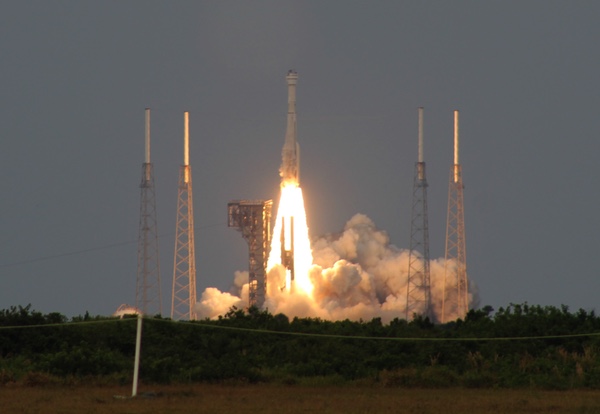 The Atlas 5 carrying Starliner lifts off May 19 from Cape Canaveral, as seen from the KSC Press Site. (credit: J. Foust)
NASA and Boeing then went silent for nearly 18 hours, providing no updates as Starliner approached the station. The lack of news led to speculation that perhaps something had gone wrong with the mission, that perhaps the OMAC thruster problem was more serious than originally reported. A Boeing spokesperson contacted Friday morning about the status of the mission promised an update "in a bit," but it was more than three hours before the company had anything more to say about the mission.
Boeing and NASA, it seemed, just didn't have much to say when they finally broke their silence Friday afternoon, about four hours before the scheduled docking. The spacecraft was working well and performing maneuvers with those OMAC thrusters as well as smaller reaction control system (RCS) thrusters, and other systems were working well, the company said.
There were a few minor glitches during Starliner's final approach to the station, such a software that had problems identifying the approaching spacecraft and a docking ring on the spacecraft that needed to be retracted and re-extended, the equivalent of turning it off and back on again. At 8:28 pm EDT Friday—a little more than an hour behind schedule—Starliner docked at last with the ISS.
In a call with reporters shortly after the docking, NASA officials expressed relief that Starliner finally made it. "This was a really critical demonstration mission," said Kathy Lueders, NASA associate administrator for space operations. "Seeing that vehicle docked now to the ISS is just phenomenal."
Nappi said that Boeing was still studying the failure of the two OMAC thrusters, having found "three or so" plausible explanations. The two thrusters, he added, might have failed for different reasons despite both being in the same doghouse.
"We may never know what the real cause of what this is because we don't get this vehicle back," he said. The thrusters are in the service module, which is jettisoned and burns up on reentry.
"I had to wait a little longer for my birthday present," said Stich. "I'm just thrilled to be here on my birthday welcoming the Starliner to the space station and watching that vehicle come in and dock."
In addition to the OMAC thrusters, two small RCS thrusters also failed on approach to the station. "I don't think we know quite yet what happened to those thrusters, but the vehicle has plenty of redundancy," said Steve Stich, NASA commercial crew program manager. The RCS thrusters will be used for undocking and moving away from the station, while the OMAC thrusters will be used for the deorbit burn.
He was pleased, though, that Starliner made it to the ISS successfully. "I had to wait a little longer for my birthday present. It was well worth the wait to have Starliner dock to the International Space Station," said Stich, who celebrated his 57th birthday Friday. "I'm just thrilled to be here on my birthday welcoming the Starliner to the space station and watching that vehicle come in and dock."
The OFT-2 mission is still far from over. On Saturday, ISS astronauts entered Starliner for the first time, conducting tests and transferring cargo: more than 200 kilograms of food and supplies for the station, and nearly 300 kilograms of equipment that will be heading back to Earth. Those hatches will close again as soon as Tuesday for a Wednesday undocking, reentry, and landing at White Sands, New Mexico, the same site as the original OFT touched down 29 months earlier.
Both NASA and Boeing were looking ahead, even before launch, to the next test flight, the Crew Flight Test (CFT) mission that will carry NASA astronauts for the first time. Nappi said the company believed it could have Starliner ready for that CFT mission by the end of the year, assuming no major issues on OFT-2.
NASA is not ready to commit to a date, or even a crew, for CFT. "We're going to take this one step at a time," Lueders said at a prelaunch briefing. That schedule, and the crew assignments, would depend on several factors, including the readiness of the spacecraft and the status of activities on the ISS.
She said she would coordinate with Reid Wiseman, NASA chief astronaut, on deciding who would fly CFT and how long that mission will last, as well as the timing for PCM-1, the first operational Starliner mission. "We'll be looking at final CFT and PCM-1 timelines this summer, and then we'll be making final crew selections for the [ISS] increments coming up and for CFT."
"But we've got to get through this demo first," she added.
Once Starliner is certified, NASA envisions alternating ISS missions with Crew Dragon, which is already on its fourth operational ISS mission and seventh overall crewed mission, counting Demo-2 and two private astronaut missions. That would mean flying Starliner once a year for NASA, stretching out its contract of six operational missions into the late 2020s.
The problem is that ULA is planning to retire the Atlas 5 before then as it transitions to the Vulcan Centaur. Some, including NASA's own Aerospace Safety Advisory Panel, raised concerns about that transition and human-rating the Vulcan.
"We're focused first and foremost on getting safely back to flight and meeting our commitments to NASA, to our customer, and being able to bring this capability to NASA," said Parker. "We expect there will be additional opportunities in the future."
ULA says it plans to keep Atlas 5 in service for Boeing for the length of its current contract. "From a resource perspective, we have measures in place to protect the talent and to ensure we retain the critical skills to be able to fly an Atlas as late as we need to," said Gary Wentz, vice president of government and commercial programs at ULA. "We're in conversations with Boeing and other customers for that capability."
It's unclear how that might affect other commercial users of Starliner—if there are any. Boeing has not announced any firm contracts for Starliner outside its NASA agreement. Boeing, since the OFT mission, has taken nearly $600 million in charges against its earnings to cover the work needed for OFT-2.
"We're focused first and foremost on getting safely back to flight and meeting our commitments to NASA, to our customer, and being able to bring this capability to NASA," Michelle Parker, vice president and deputy general manager of space and launch at Boeing, said before the launch when asked about the business case for the spacecraft. She noted Starliner is one Boeing contribution to the Orbital Reef commercial space station project led by Blue Origin. "We expect there will be additional opportunities in the future."
Those missions, though, will likely require certifying Vulcan or another rocket for Starliner, as would any additional ISS missions between the end of Boeing's current contract and the retirement of the station in 2030. NASA's Stich said the agency would support human-rating a new rocket for Starliner "when Boeing and ULA are ready."
That's still a long way off, particularly since OFT-2 is far from over. After all the delays, it's easy to see why the overwhelming mood about the launch and docking has been one not of exuberance but of relief, of achieving a milestone that had been a millstone for so long.
---
Note: we are using a new commenting system, which may require you to create a new account.